OnFinality Web3 Builders' Update
OnFinality, a multi-chain infrastructure provider, announces API and node support for Encointer, InvArch Tinkernet, Robonomics, Managata X and more!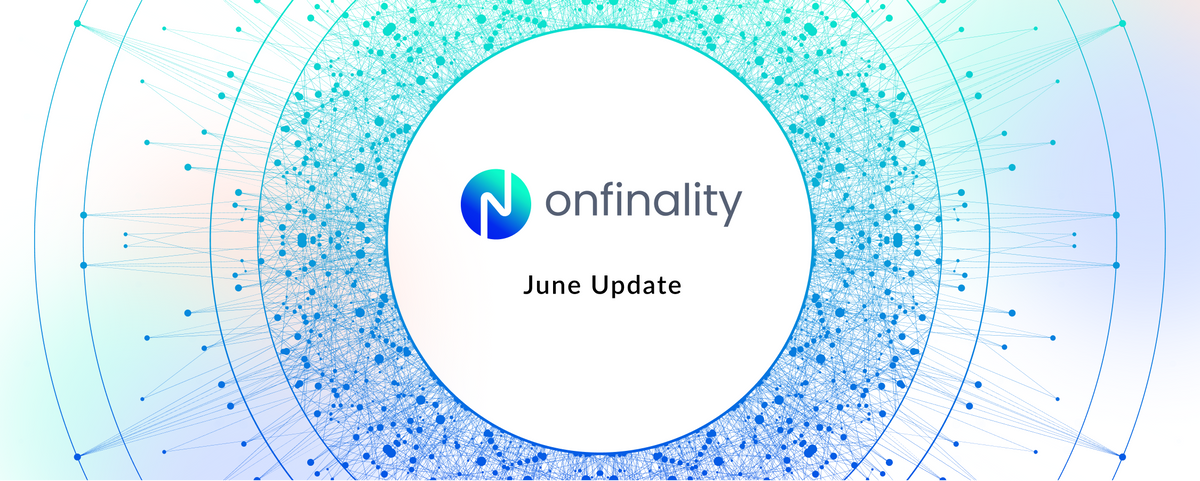 June 2023 Summary
Lifetime Report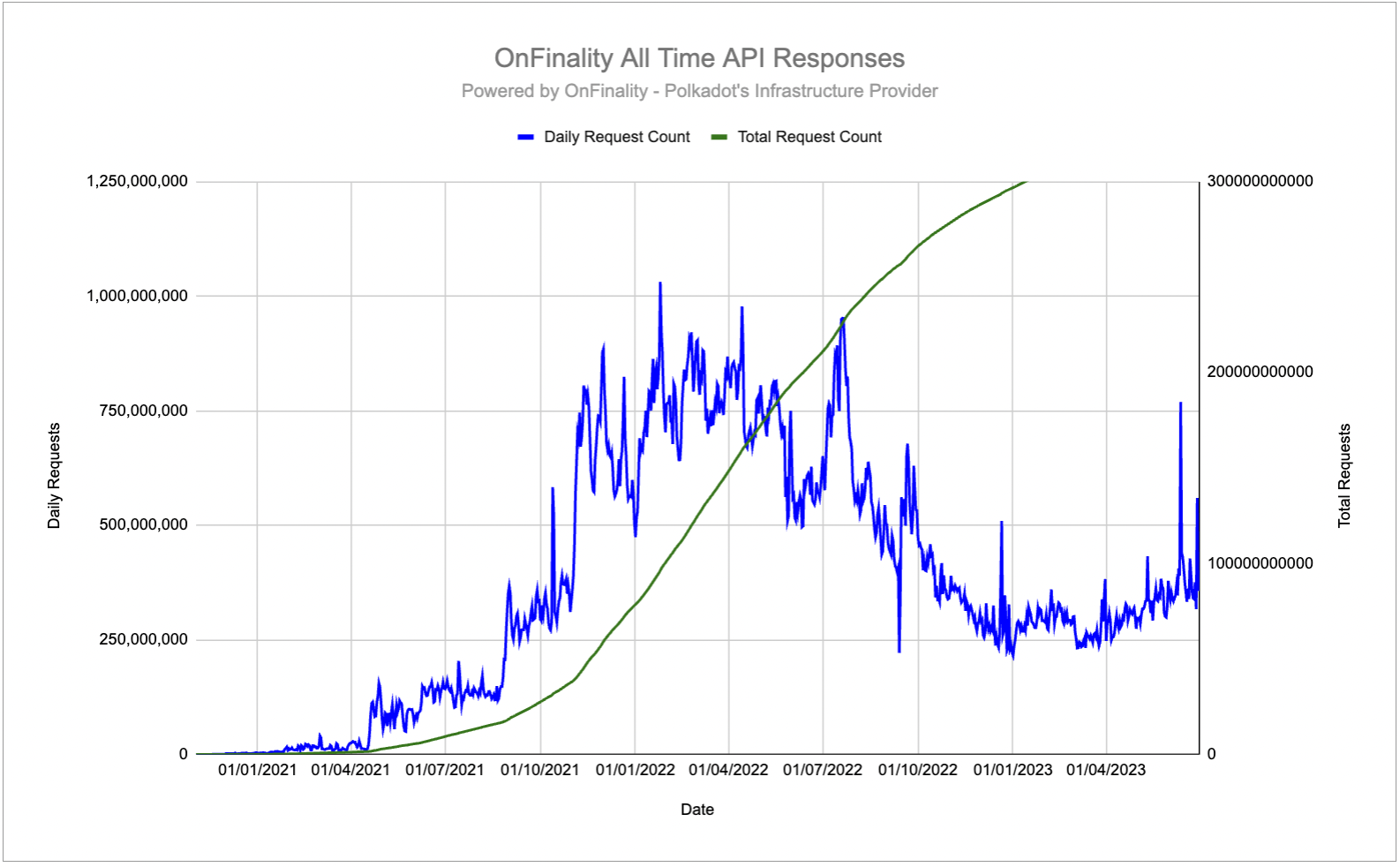 Stability
In the first half of 2023, we continued to deliver reliable, scalable and high performing solutions across 84 chains including Avalanche, BNB Chain, Ethereum, Polkadot and Polygon, maintaining our 99.99% uptime target (less than 53 minutes of downtime per year)!
You can follow along with our target uptime by viewing the live numbers on our status page (https://status.onfinality.io/).

Chain Support Announced
In June, we added API and node support for Encointer, InvArch Tinkernet and Robonomics, as well as node support for Mangata X and Aleph Zero, bringing the grand total number of supported chains to 84!

Easy, Reliable and Scalable API Support
Our elastic API service is a globally distributed service that ensures your users receive the lowest latency service possible. We have been serving over 1 Billion JSON RPC requests to our public API service every day at 99.99% uptime target.
Connect in seconds to enterprise grade endpoints that scale infinitely and rely on archive nodes to provide full history of the chain.
Sign up to the OnFinality app to receive 500,000 free daily responses instantly!
Dedicated Nodes
Our one-click node solution makes it easy for anyone who is looking to deploy nodes to have Dedicated Nodes spun up and running in a few clicks via the OnFinality app.
You can now deploy reliable, scalable and fast nodes, and simply pay-as-you-go, without having to buy or set up your own hardware or make tools to monitor your node's health and performance.
Log in to the OnFinality app to deploy a dedicated node now.
Developer Guides
We released a step-by-step guide on running your own Dedicated Trace Node for the Moonbeam Network, enabling you to access the non-standard EVM Trace, Debug, or TxPool RPC methods.
Check it out here.
We also published a guide on choosing an RPC Provider taking into consideration key criteria such as security, reliability and scalability.
You can read it here.
We compared 10 top RPC Providers in the industry and shared how OnFinality compares in terms of pricing and features amongst other criteria.
Check it out here.
Introduction to Web3 Sectors
We released a new article series introducing key web3 sectors, for beginners in the space to learn more about the various web3 niches that they might find their calling in.

In the first of the series, we dived into one of web3's hottest sectors — Decentralised Finance (DeFi), exploring how it challenges conventional norms and whether it could replace the current financial system.
You can read it here.
Next, we delved into one of the most exciting sectors of web3 — Game Finance (GameFi), exploring how DeFi and traditional games can come together to deliver an immersive gameplay like never before, creating financial inclusion and onboarding the masses onto web3 — all at once!
Read more.
In the latest article of the series, we dissected a highly controversial web3 sector — NFTs (non-fungible tokens); how it is democratising the creator economy, and transforming industries across the board — from music to games, high fashion, and even sports!
Read more.
Stay tuned to our blog for new releases in this series!
Web3 Gaming Week
Our COO, James Bayly, was invited to moderate a panel for On-Chain Tooling for at Web3 Gaming Week in Singapore - an event initiated by Jump Crypto's community sandbox, The Pit, supported by Google Cloud.
Polkadot, Ethereum, Cosmos Events
In the last monthly update, we shared that our Technology Evangelist, Marta Adamczyk, had embarked on a trip across Europe to attend the biggest crypto events in Polkadot, Ethereum and Cosmos.
Marta unveiled OnFinality's new NFT API at NFTs In Prague, and brought our years of expertise and experience as the leading infrastructure provider in Polkadot to the annual Polkadot Decoded conference.
As the largest infrastructure provider in Polkadot, we were also excited to bring our years of expertise and experience in supporting parachains to the annual Polkadot Decoded conference!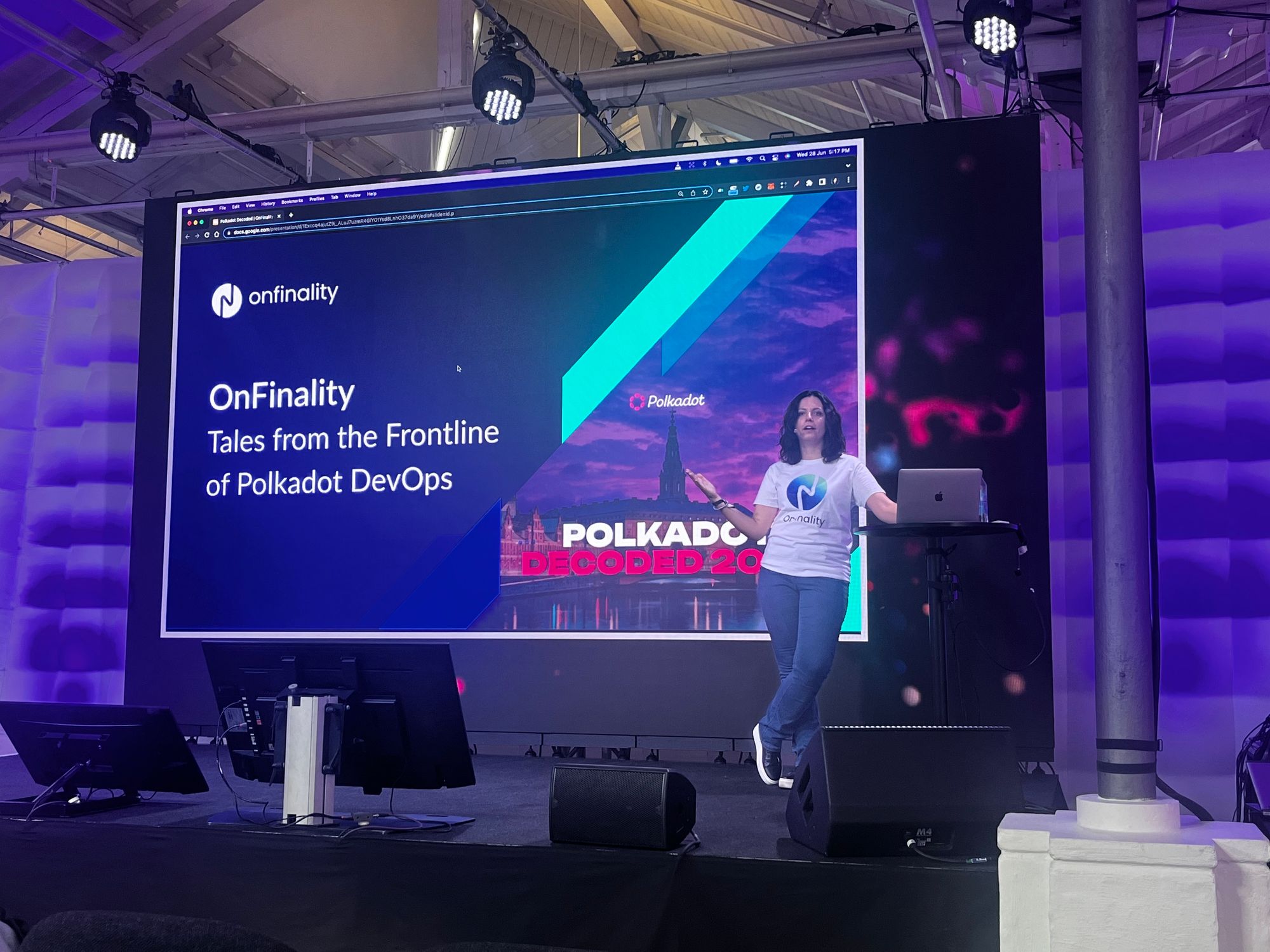 Marta shared rapid deployment and testing strategies employed by pioneering parachains, as well as invaluable insights, best practices and building techniques utilised by these forward-thinking projects.
Read more about it here.
Upcoming Events
If you'd like to find out more about OnFinality's latest innovations and scalable infrastructure for your web3 project, you can still catch Marta at the following upcoming events:

- Awesomwasm Conference
- ParisDOT
- ETHGlobal Paris
- EthCC6
Simply DM Marta on Twitter or Telegram to arrange a meet up!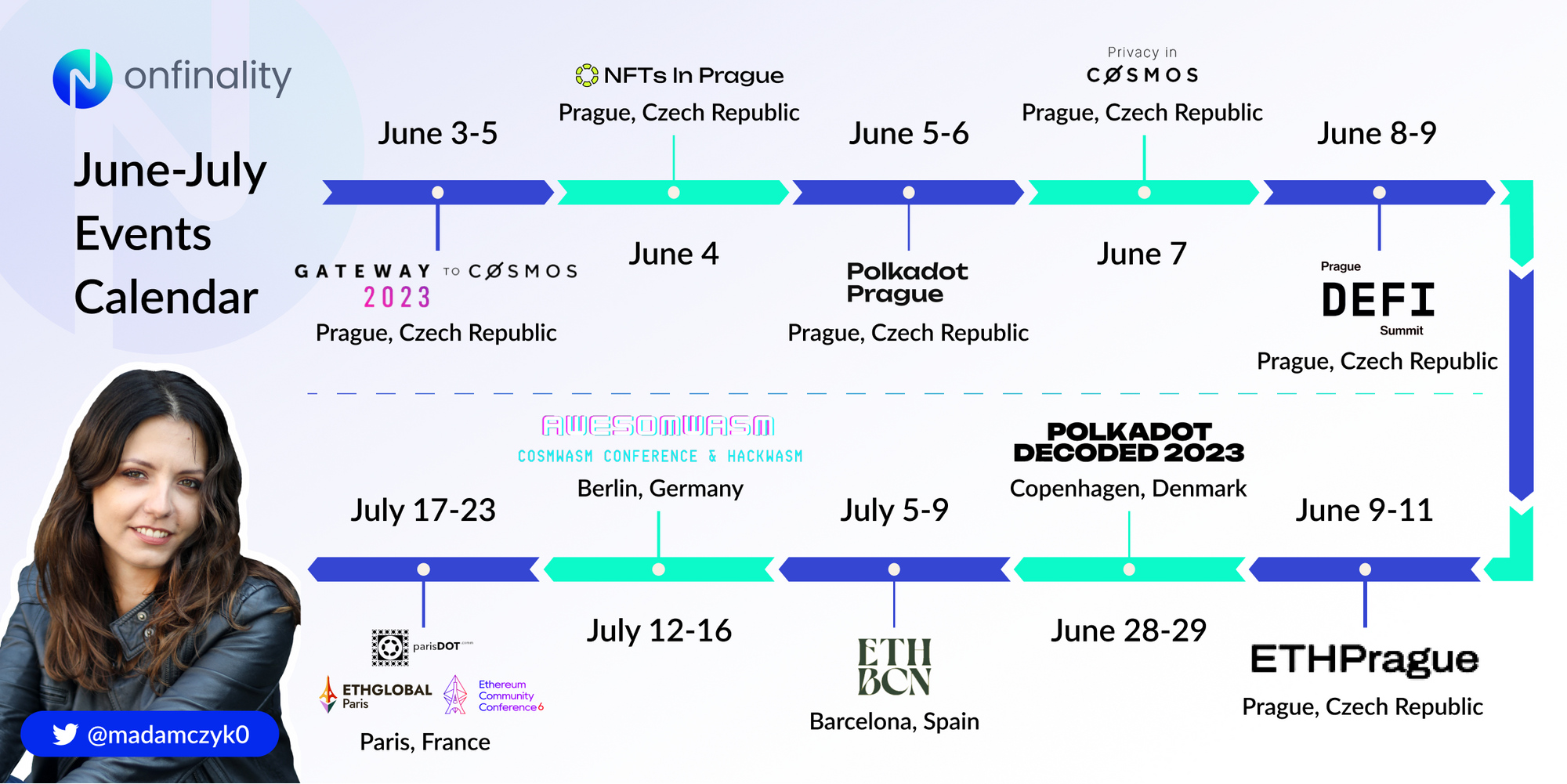 Build Smarter with OnFinality. 😎
About OnFinality
OnFinality is a blockchain infrastructure platform that saves web3 builders time and makes their lives easier. OnFinality delivers scalable API endpoints for the biggest blockchain networks and empowers developers to automatically test, deploy, scale and monitor their own blockchain nodes in minutes. To date, OnFinality has served over hundreds of billions of RPC requests across over 80 networks including Avalanche, BNB Chain, Cosmos, Polkadot, Ethereum, and Polygon, and is continuously expanding these mission-critical services so developers can build the decentralised future, faster!