Choosing the Right RPC Provider for Your Web3 Project
OnFinality, a multi-chain infrastructure provider, highlights some of the key factors to consider when choosing your RPC provider such as security, reliability and scalability.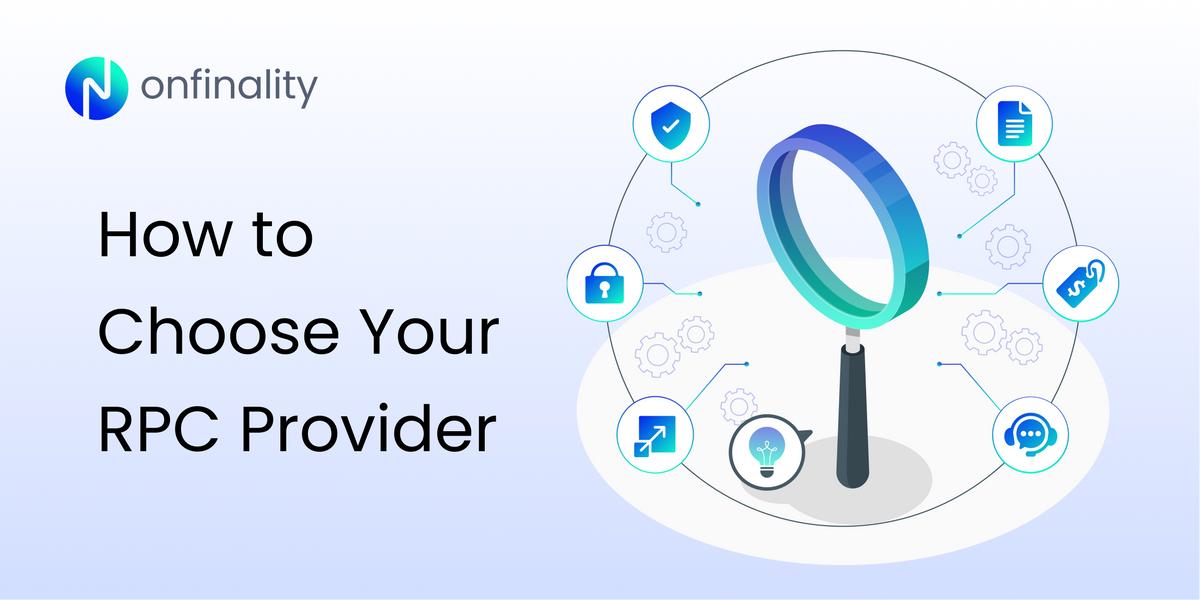 OnFinality is a blockchain infrastructure platform that saves web3 builders time and makes their lives easier. We deliver easy-to-use, reliable and scalable API endpoints for the biggest blockchain networks and empower developers to automatically test, deploy, scale and monitor their own blockchain nodes in minutes.
If you're on the hunt for a Remote Procedure Call (RPC) provider for your web3 application, you're in the right place.
In this article, we explore the key criteria of a good RPC provider to help you make an informed decision when choosing your infrastructure partner.
We also provide concrete examples on how we're continuously enhancing our RPC services with bleeding-edge features and adopting the latest industry standards to deliver the best possible service to web3 teams.
What is RPC and why is it important?
Remote Procedure Calls (RPCs) are services that help different parts of a web3 application talk to each other. They act like a bridge between the client and a remote server. In the context of web3, that could be your app or website and a blockchain network like Ethereum.
Why should I use an RPC provider?
By using an RPC provider, you can easily send requests and receive responses between your app and the remote server, without having to worry about the technical details of how the communication works.
The importance of choosing the right RPC provider
Understanding the key factors that contribute to a reliable RPC provider can help ensure the success of your web3 project.
Moreover, selecting the right one at the start not only sets the stage for a smooth and successful development journey, but also helps prevent disruptions when it comes time to scale your Decentralised Application (DApp).
What are some key criteria to consider?
Reliability and uptime
A provider with high reliability and uptime ensures that your application is available and functional for users at all times, helping you provide the best user experience possible.
A commonly used benchmark for measuring uptime would be via the percentage of time that a system is operational, measured using the number of nines (9s) from 99% — 99.9999%.
Achieving 99.9% uptime is a reasonable goal for DApps, but it is important to consider factors such as network congestion, node failure, and software bugs that can affect the performance of your apps. Some DApps may require higher levels of availability, such as those that handle financial transactions or store sensitive data.
Since inception in 2019, OnFinality has served hundreds of billions of requests to over 80 chains at a high target uptime of 99.99% (which means a downtime of 52.56 minutes per year!).
You can view the daily status of our API service here.
Security and privacy measures
The importance of security and privacy measures cannot be overstated, as these directly impact the safety and protection of sensitive data and users' trust in your application.
Some best practices by RPC providers to prevent data breaches and other security risks include strong authentication mechanisms and access controls to prevent unauthorised access to sensitive data and systems, as well as compliance with relevant data protection and privacy regulations.
While OnFinality provides public endpoints across all of its supported chains, we highly recommend you to create a private API key, which will give you greater control over the security of your apps. Private API keys come with unique identifiers associated with a specific user or application, that can be used to authenticate or restrict API requests from specific users or applications.
In addition to API Access Restrictions, OnFinality complies with various privacy protection laws around the world, notably the General Data Protection Regulation of the European Union (GDPR) and the equivalent laws of the United Kingdom (UK GDPR) when dealing with personal information.
Chain compatibility and ease-of-integration
A provider that supports multiple blockchain networks and provides easy-to-use APIs can greatly improve the user experience by facilitating the seamless integration and utility of DApps across different chains and ecosystems.
For example, compatibility with EVM (Ethereum Virtual Machine) chains allows developers to leverage the vast ecosystem of existing Ethereum tools and smart contracts, while IBC (Inter-Blockchain Communication) compatibility enables the creation of multi-chain apps that can be interoperable between different blockchains.
OnFinality currently supports over 80 networks in our marketplace and are actively rolling out more new chains to enable you to build effortlessly on a single interface while leveraging the unique tools and technologies of various blockchains.
Scalability and performance
The ability to handle high volumes of traffic and deliver swift response times is paramount in the growth of your DApp. You want to consider a provider that can ensure optimal performance and user experience regardless of where your users are based.
That is why OnFinality has invested in globally distributed nodes and multi-cloud hosting to enable fast and seamless access to our service from any region around the world, while providing redundancy and failover options in case of hardware or network failures.
Other Factors to Consider
Pricing models
Consider the amount of usage your applications will require and whether the pricing structure is scalable to accommodate future growth. Additionally, always ask or check the provider's official website and/or social media to see if there are any discounts or promotions going on.
OnFinality offers three straightforward pricing tiers that you can jump into and start building right away! Our service is completely automated, with no management fees. Pay only for what you need with simple transparent pricing based on your usage.
Developer Plan: From $0
Growth Plan: From US$49/ month
Ultimate Plan: Crypto payment option available!
Check out our pricing page for full details.
Currently, we're offering 500,000 free daily responses for all new sign ups!
Developer resources and documentation
The availability and quality of developer resources and documentation also plays a part in enhancing your development experience and speeding up the time it takes to integrate with your application.
OnFinality provides a range of web3 developer resources ranging from documentation, to developer guides and walkthroughs, all of which help you to start building from the get go.
Enterprise support
As you scale up your project, you may start to face challenges that require a high level of expertise and experience to overcome. This is where enterprise support will be invaluable in navigating complexities and ensuring your project's success.
While OnFinality's services are designed to be user-friendly for all, we also have a dedicated team to assist enterprise clients in overcoming challenges and implementing key solutions.
How OnFinality Supports Web3 Teams
We are developers ourselves, and we know how time-consuming setting up and managing infrastructure can get. Our mission is to support all blockchain teams in the world by providing critical infrastructure so you can focus on your core business.
Whether you're just starting out or a web3 team already serving millions of users, we have all the tools and expertise to make your lives easier.
Simply reach out to us at sales@onfinality.io for a customised solution or to find out how we can help save you time and operational costs!
Ready to launch your web3 project?
Sign up to the OnFinality app and receive 500,000 free daily responses instantly!
Build Smarter with OnFinality. 😎
About OnFinality
OnFinality is a blockchain infrastructure platform that saves web3 builders time and makes their lives easier. OnFinality delivers scalable API endpoints for the biggest blockchain networks and empowers developers to automatically test, deploy, scale and monitor their own blockchain nodes in minutes. To date, OnFinality has served over hundreds of billions of RPC requests across over 80 networks including Avalanche, BNB Chain, Cosmos, Polkadot, Ethereum, and Polygon, and is continuously expanding these mission-critical services so developers can build the decentralised future, faster!