OnFinality brings Cross-Chain NFT indexing to Prague!
OnFinality, a multi-chain infrastructure provider showcases their new game-changing NFT API at NFTs In Prague!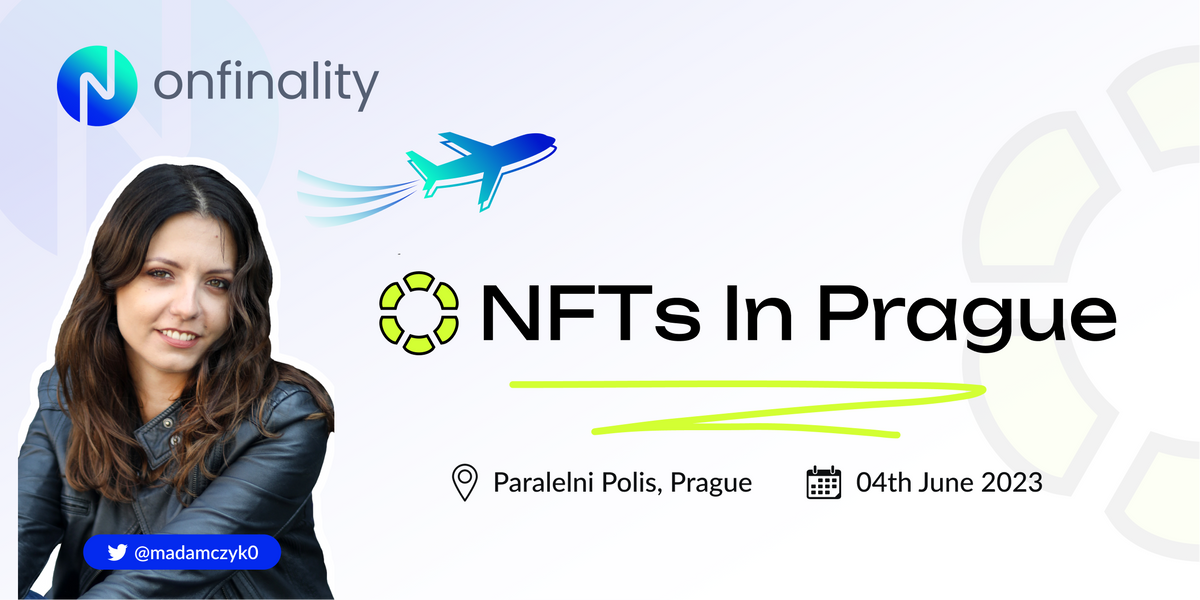 OnFinality is a blockchain infrastructure platform that aims to support all blockchain teams in the world by providing mission critical, reliable and scalable infrastructure so that web3 teams can focus on building the decentralised future, faster.
This June, our Technology Evangelist, Marta Adamczyk, is embarking on a trip across Europe to share OnFinality's latest innovations with web3 developers around the world!
📍First stop: NFTs in Prague event at the iconic Paralelni Polis!
"We are excited to be unveiling a new NFT API service at the NFTs in Prague event. With just one query endpoint, developers will be able to effortlessly access all cross-chain NFT data! This changes the way we interact with NFTs and creates unprecedented opportunities for all participants in the NFT ecosystem."
— Marta Adamczyk, Technology Evangelist, OnFinality
What is 'NFTs in Prague' powered by Polkadot?
'NFTs in Prague' is an event where NFT communities forge meaningful connections and shape the future of non-fungible tokens!
Inspired creators, passionate enthusiasts, and visionary pioneers from the thriving Web3 ecosystem come together at the Paralelni Polis to engage in a day filled with enriching sessions, hands-on workshops, and insightful panels on Polkadot and the broader Web3 space.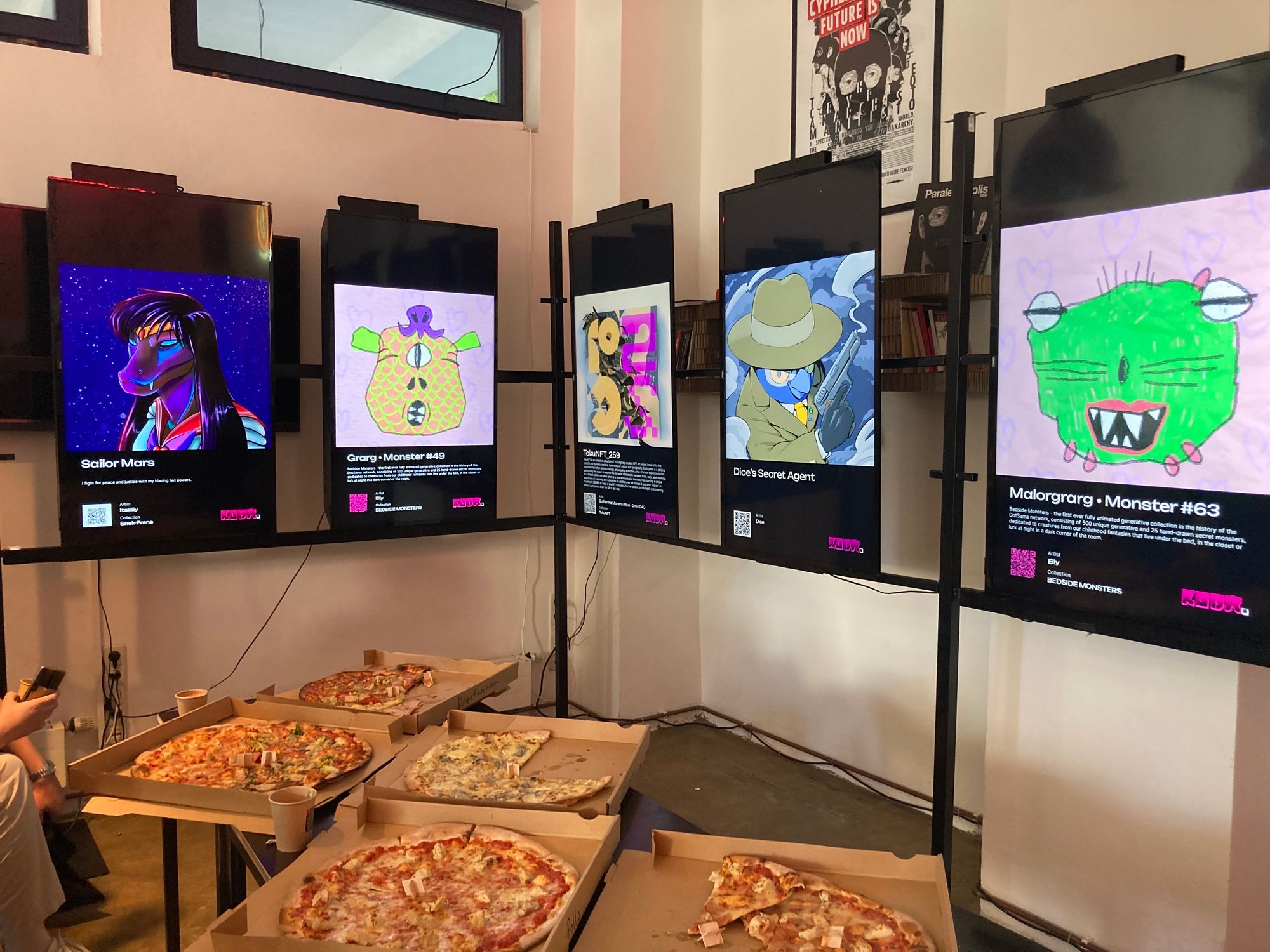 Panel Discussion: The Evolution of Play: NFTs, Blockchain and the Future of Gaming
We were thrilled to be involved in a panel discussion on how NFTs and blockchain technology are reshaping the concept of play in gaming.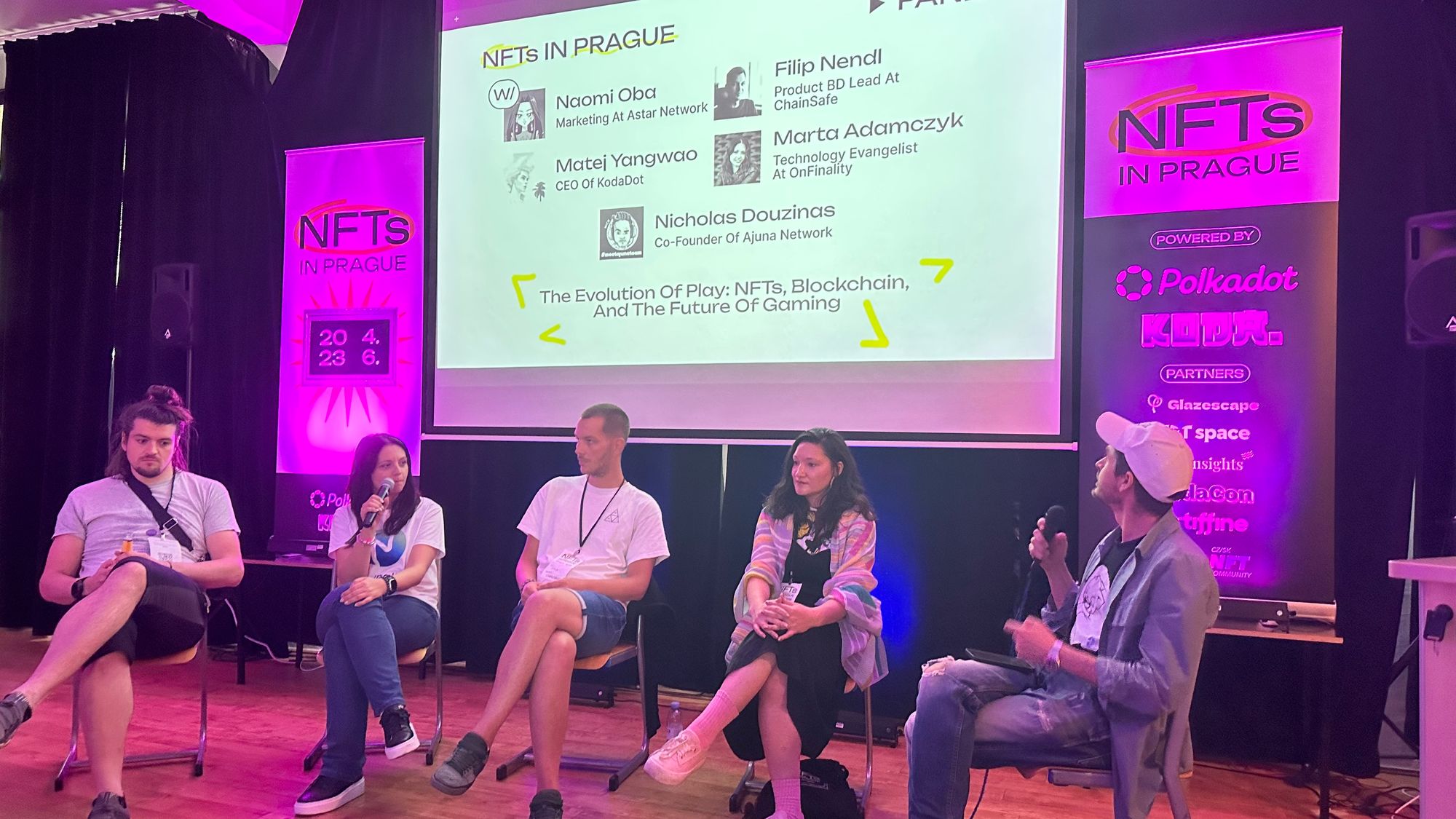 The panel, moderated by Nicholas Douzinas, the Co-Founder of Ajuna Network, and joined by NFT pioneers Naomi Oba of Astar Network, Filip Nendl of ChainSafe, and Matej Yangwao of KodaDot, dived deep into decentralised game development, player-driven economies, cross-game collaboration, and the potential for immersive and interactive gaming experiences powered by NFTs.
One to get them all — OnFinality's new API for cross-chain NFT indexing
Marta also took the stage alongside a stellar lineup of speakers, to announce our latest groundbreaking solution, a new cross-chain NFT API.
Built in collaboration with SubQuery, a web3 data indexing toolkit, the OnFinality NFT API comes as the answer to the high cost of indexing multiple chains as well as the complexity in navigating different protocols and NFT standards.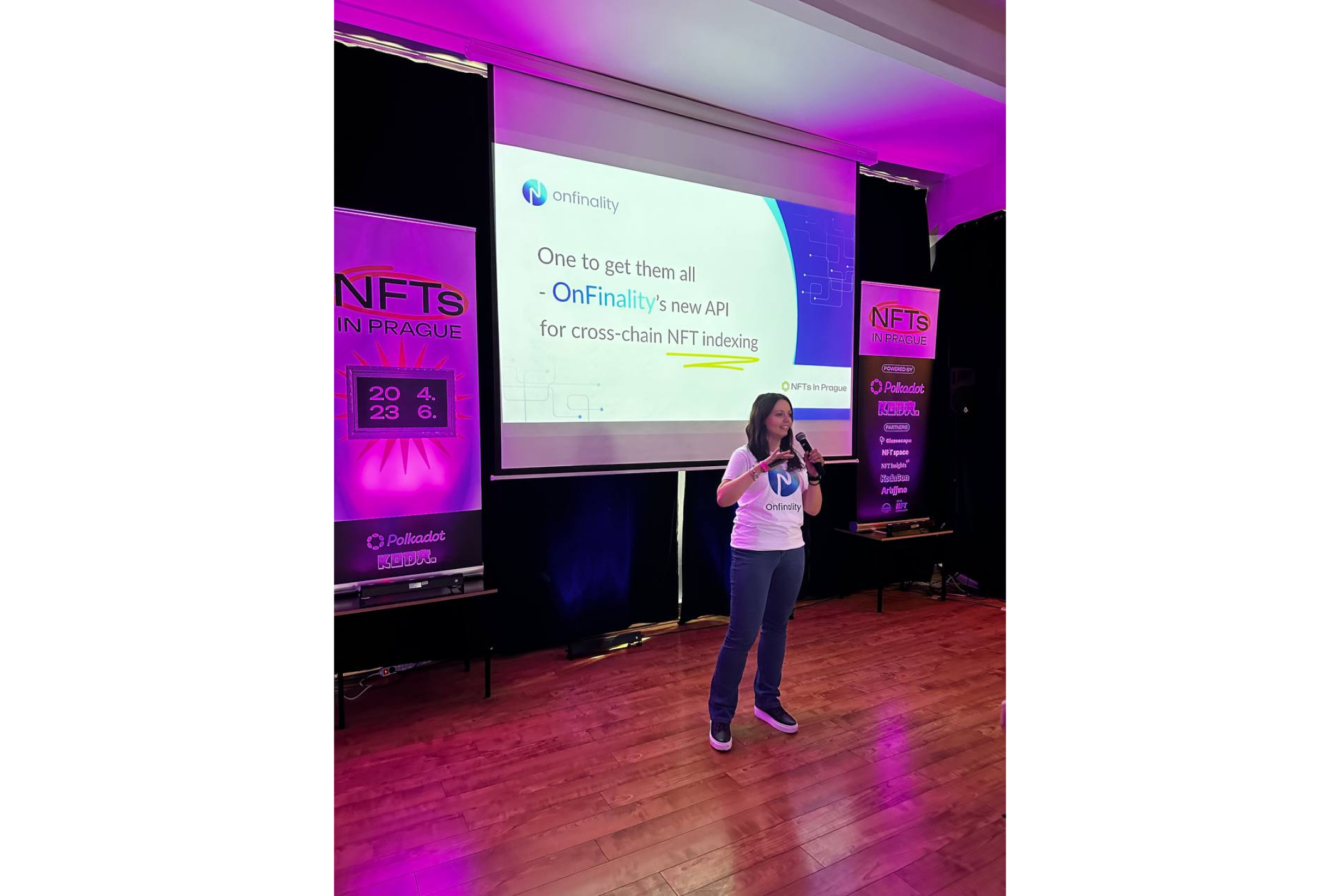 Marta talked about how the new NFT API would help break down barriers and streamline access to cross-chain NFT data, enabling developers to present multi-chain information to users quickly and easily.
The highly anticipated feature will undoubtedly ignite a world of possibilities and use cases for wallets, chain analytics, and NFT projects.
We aim to expand querying capabilities across as many Polkadot parachains and Ethereum chains as possible, starting with Moonbeam and Astar, which will be publicly available by the end of the month.
Teams that are interested to use this feature can contact us at sales@onfinality.io to speak about your requirements.
Sign up to our feature-rich app here and receive 500,000 free daily responses to kickstart your web3 project!
Build Smarter with OnFinality 😎
—
Want to know where Marta is headed next? Check out the calendar below or follow us on Twitter to stay updated with the latest OnFinality news and events!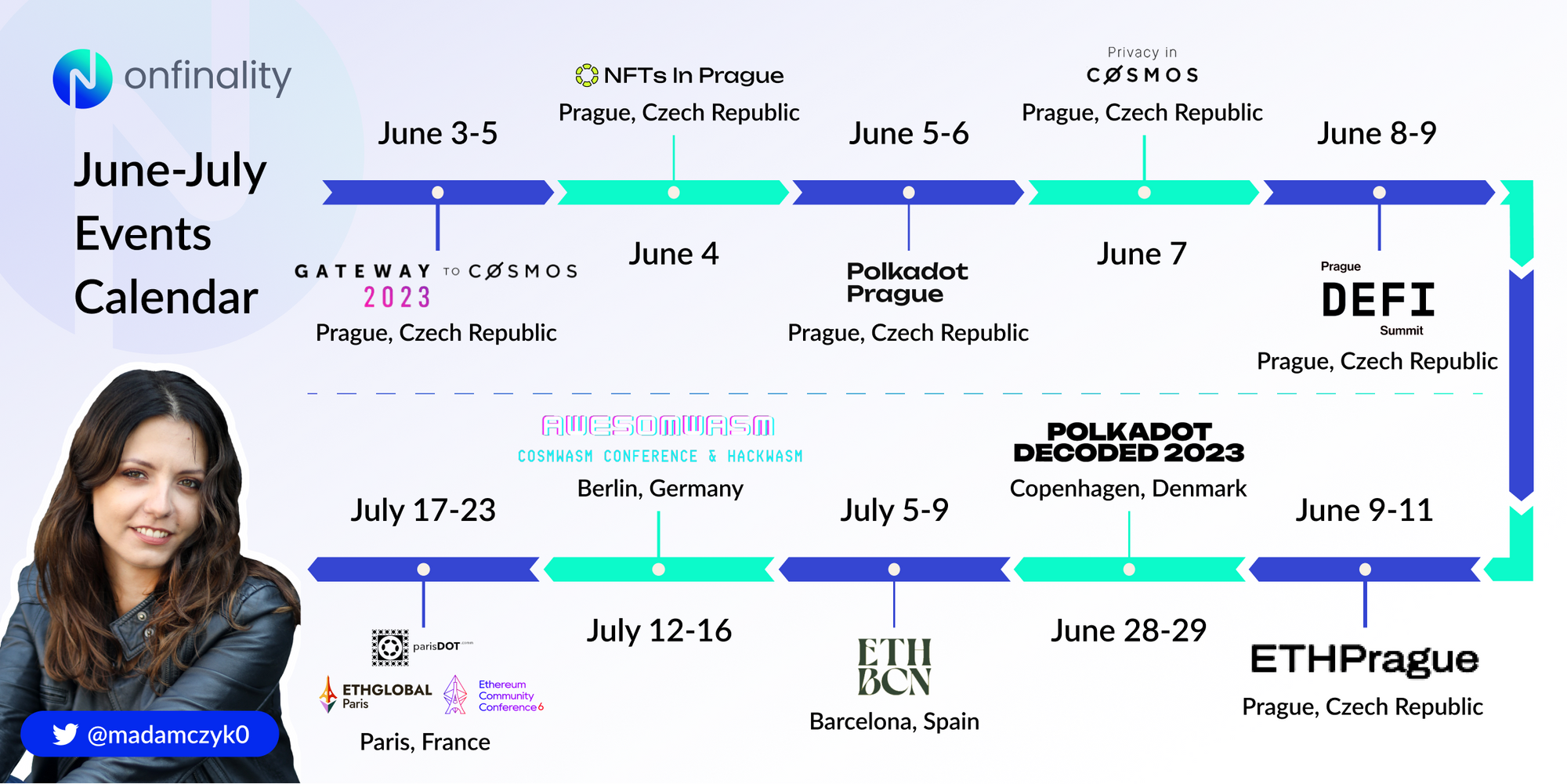 About OnFinality
OnFinality is a blockchain infrastructure platform that saves web3 builders time and makes their lives easier. OnFinality delivers scalable API endpoints for the biggest blockchain networks and empowers developers to automatically test, deploy, scale and monitor their own blockchain nodes in minutes. To date, OnFinality has served over hundreds of billions of RPC requests across over 80 networks including Avalanche, BNB Chain, Cosmos, Polkadot, Ethereum, and Polygon and is continuously expanding these mission-critical services so developers can build the decentralised future, faster!