An Introduction to NFTs (non-fungible tokens)
Learn about how OnFinality, a multi-chain infrastructure provider, is supporting the NFT economy with its new cross-chain NFT API!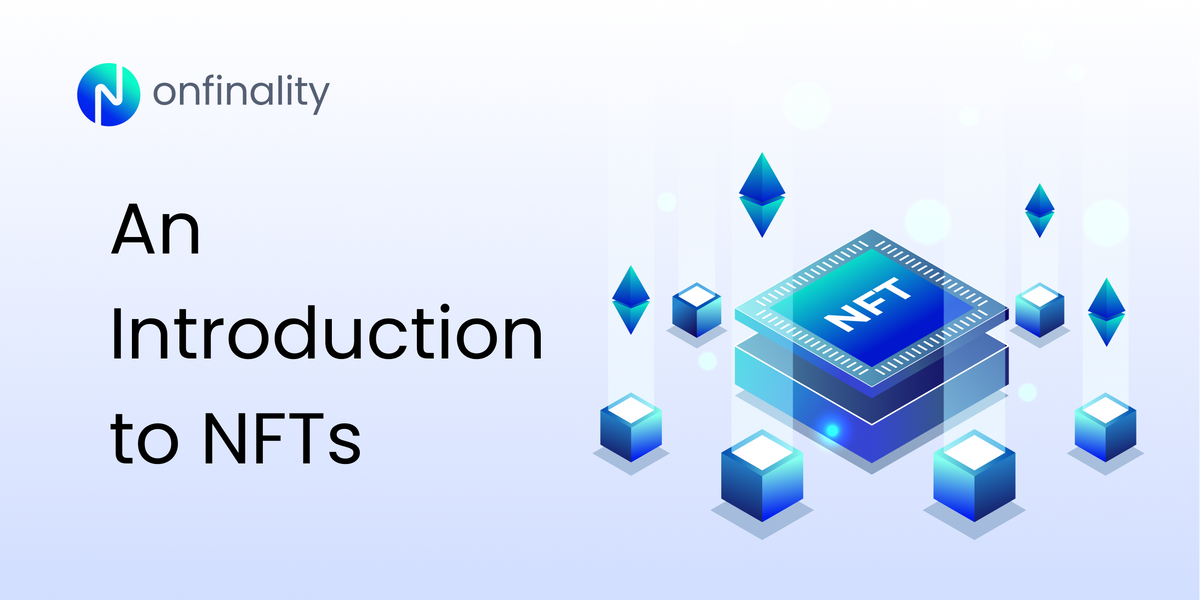 OnFinality is a blockchain infrastructure platform that saves web3 builders time and makes their lives easier. We deliver easy-to-use, reliable and scalable API endpoints for the biggest blockchain networks and empower developers to automatically test, deploy, scale and monitor their own blockchain nodes in minutes.
In this article, we take a closer look at a highly controversial web3 sector — NFTs (non-fungible tokens); how it is democratising the creator economy, and transforming industries across the board — from music to games, high fashion, and even sports!
We also share our must-have tool for NFT powered web3 projects — a new game-changing NFT API that streamlines access to cross-chain NFT data, enabling developers to present multi-chain information to users quickly and easily.
TLDR
NFTs, are unique, one-of-a-kind encrypted tokens that can be easily verified and traced on the blockchain
Thus, it can be used to prove authenticity and ownership of any physical object such as art, collectibles and even real-estate
NFTs solves many of the problems made rampant with digital marketplaces such as counterfeiting and ticket scalping, and returns artistic and financial control back to the hands of artists
NFTs can create a more inclusive digital realm, but it faces the challenges that accompanies its fundamental technology that proves scarcity and uniqueness of an item
What are NFTs (non-fungible tokens)?
NFTs (non-fungible tokens) are cryptographic tokens that are inherently unique, unlike cryptocurrencies like Bitcoin or Ethereum, that are fungible and can be exchanged on a one-to-one basis.
These digital tokens have revolutionised the concept of asset ownership, enabling individuals to buy, sell, and trade items such as art, collectibles, and even real estate in the digital realm.
As the concept of the Metaverse continues to gain traction, NFTs play a crucial role in establishing and verifying ownership of digital assets within virtual worlds, opening up new possibilities and markets for creators and collectors alike.
How do NFTs work?
NFTs (non-fungible tokens) operate through a combination of smart contracts and blockchain technology, facilitating the tokenisation of unique assets. This process involves converting various items, such as songs, digital recordings, album artwork, collectibles (e.g. artist memorabilia), and even concert tickets, into indivisible tokens with provable ownership and authenticity.
The most popular blockchain for NFTs is Ethereum, which allows for the creation and transfer of these tokens. To mint an NFT, individuals need to pay gas fees, which contribute to the security and validation of transactions on the Ethereum network.
The most commonly used NFT standards include ERC-20 and ERC-721, which provide a framework for creating and managing these tokens.
By leveraging blockchain technology, NFTs enable clear ownership and traceability of digital assets, fostering a marketplace for auctioning, buying, selling, trading, and even renting these unique tokens.
Immutable blockchain records ensure that ownership rights are securely established and transparently maintained. The use of blockchain wallets further enhances the security and accessibility of NFT transactions.
What do NFTs solve?
The decentralised nature of NFTs removes intermediaries, democratising industries across the board, revolutionising buy and sell models and revitalising the creative industry.
By promoting accessibility, equity and inclusivity to the digital marketplace, anyone can now participate as artists, creators and investors.
This transformative shift offers new opportunities for creators and artists to reach global audiences while revolutionising how art and other unique assets are valued, exchanged, and experienced.
NFTs empower musicians to bypass traditional gatekeepers like music platforms/ distributors/ record companies/ artiste management to reclaim full ownership of their work and the revenue streams and royalties that come with it.
Artists can now directly monetise their music while creating fresh opportunities for fan engagement through exclusive experiences sold through NFTs such as unheard demos, behind-the-scenes, and autographed album artwork etc.
Coachella, one of the most well-known music festival brands, has incorporated NFT technology to provide fans with lifetime passes and reduce abuse of the traditional ticketing system such as ticket scalping and counterfeits.
Nike is leading the way in redefining personalised, one-of-a-kind sneaker collectibles. No longer are sneaker collectibles confined to physical objects that take up storage space and serve no other purpose. By embracing NFTs, sneaker collectibles can now come to life and provide exclusive access to celebrity meets and engaging games.
Games
NFT powered games like CryptoKitties foster interoperability across gaming platforms by utilising blockchain technology. Non-fungible tokens serve as unique digital assets that can be bought, sold, and transferred across different platforms, allowing players to seamlessly interact with and trade their in-game items or characters in diverse gaming ecosystems.
Real-World NFT Use Cases
OpenSea is the world's first and largest NFT marketplace, providing a platform for artists, creators, and collectors to trade and showcase a vast array of digital assets, from artwork and gaming items to virtual real estate, driving the growth of the NFT ecosystem.
CryptoPunks, launched on OpenSea, are unique 8-bit digital characters created on the Ethereum blockchain, representing early examples of collectible NFTs that gained significant attention and value, with each character possessing distinct traits and scarcity, leading to a vibrant secondary market for buying and selling these iconic digital collectibles.
Bored Ape Yacht Club, also launched on OpenSea, is an exclusive collection of 10,000 programmatically generated ape-themed NFTs, each with unique attributes and traits, granting holders access to various benefits and privileges within the club, including membership to a community of like-minded collectors and participation in exclusive events and experiences.
Music: The Lennon Connection celebrates the legacy of John Lennon through an NFT collection, offering unique digital artworks and music-related experiences tied to his iconic career.
Sports: NFTs have found their way into the world of sports through platforms like NBA Top Shot, which offers tokenized assets representing specific NBA highlights. Fans can collect and trade these digital "moments," creating a new form of sports memorabilia and connecting with their favorite athletes and teams in innovative ways.
NFT Controversies
While NFTs run on a technology that can prove the authenticity and exclusivity of an item thus verifying its value, how much an item is worth is decided by a multitude of factors, sparking a wave of controversy in the sector.
For example, Justin Bieber and other celebrity promoters were sued for endorsing Bored Ape Yacht Club NFTs, inflating prices without disclosing that they were paid to pump sales;
Overnight NFT meme sensations such as 'Ghozali everyday' — a series of emotionless selfies by Indonesian student, Ghozali, that sold for US$1 million in 3 days, make it hard for the industry to be taken seriously.
Challenges Impeding the Development of NFTs
While NFTs aim to foster a more inclusive and integrated society through digital art ownership, it paradoxically relies on the principles of exclusiveness and scarcity, which in various scenarios turn out to undermine its inclusive aspirations.
"The speculative pricing and investment mentality around NFTs takes the focus away from playing the game and encourages profiteering, which we think is inconsistent with the long-term joy and success of our players," a statement by Mojang, Microsoft-owned game developer, a year after announcing its intention to ban NFTs on Minecraft.
The Future of NFTs
NFTs hold tremendous potential for artists, brands, and fans alike. By providing an engage-to-earn model and enabling direct revenue streams, NFTs empower creators to regain control over their content and receive fair compensation for their work.
Moreover, NFTs offer brands a means to safeguard their intellectual property while fostering unprecedented levels of fan engagement and loyalty.
As real-world applications increase and institutional acceptance grows, NFTs have the opportunity to enhance the credibility of the digital marketplace, paving the way for a future where artists are rightfully rewarded and fans enjoy immersive interactions with their favorite creators or brands.
How is OnFinality supporting the NFT economy?
OnFinality's mission is to support as many blockchain teams as possible by providing all the tools and infrastructure to build the decentralised future faster!
OnFinality's New NFT API
We recently rolled out a new NFT API that enables developers easy access to cross-chain NFT data without the high cost barriers and complexity in navigating different protocols and NFT standards.
"With just one query endpoint, developers will be able to effortlessly access all cross-chain NFT data! This changes the way we interact with NFTs and creates unprecedented opportunities for all participants in the NFT ecosystem."
— Marta Adamczyk, Technology Evangelist, OnFinality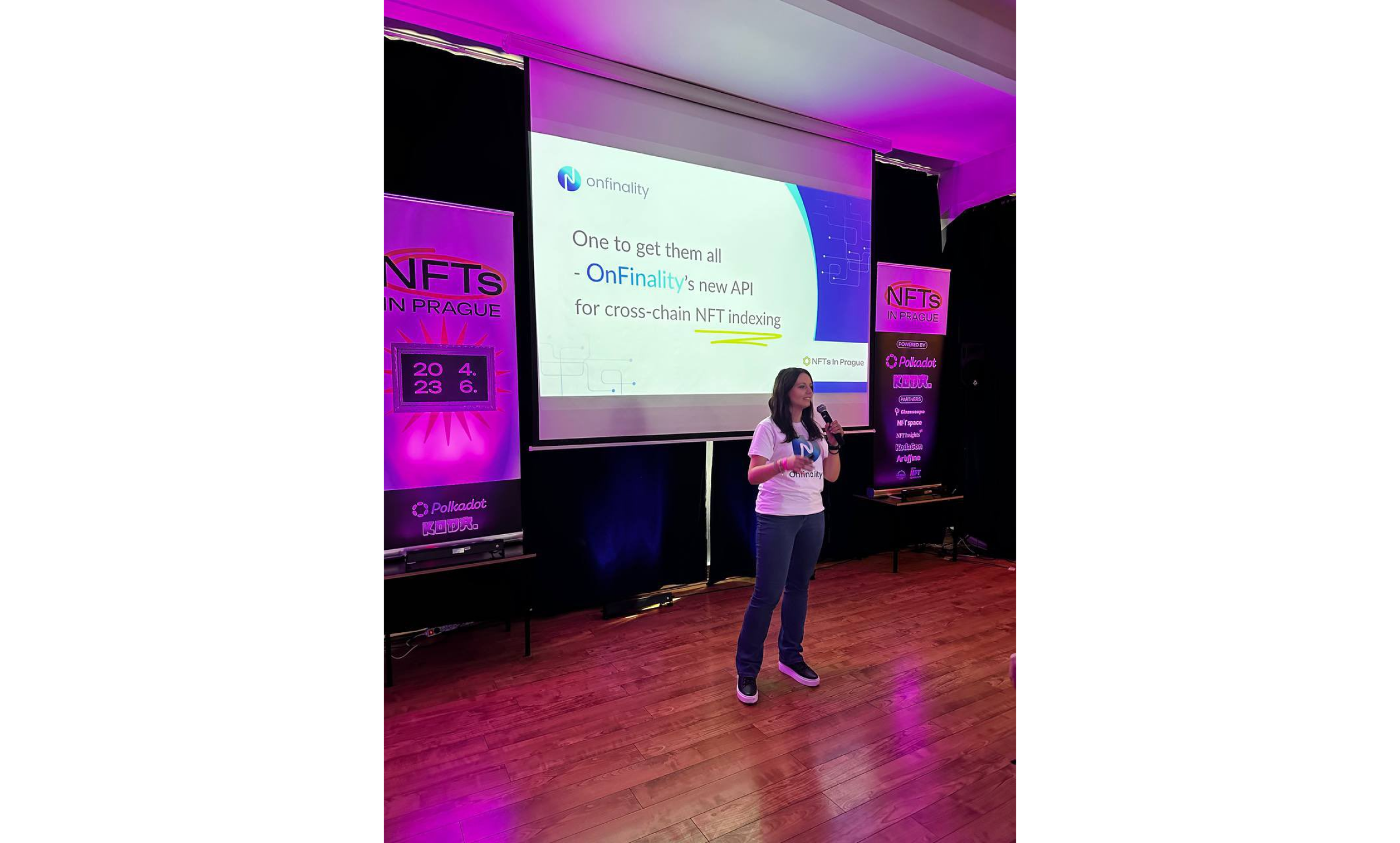 Enjin — Next-generation Blockchain for NFTs
We're also supporting NFT powered teams like Enjin, providing an easy-to-use, reliable and scalable API as well as a one-click node deployment solution for the Efinity parachain to scale faster like never before!
What is Enjin?
Enjin is the leading ecosystem for non-fungible tokens (NFTs), offering a comprehensive suite of products for creating, trading, distributing, and integrating NFTs into virtual worlds. As a scalable, affordable platform, Enjin's technology has seen wide application in blockchain games, apps, enterprise programs, and innovative marketing campaigns. The Enjin ecosystem is fueled by Enjin Coin (ENJ), a utility token used to back the value of blockchain assets, and the native ERC-1155 token standard created by Enjin CTO Witek Radomski. To date, over 1 billion Enjin-powered blockchain assets have already been created.
What is Efinity?
Efinity is a scalable, decentralised and cross-chain token infrastructure built to enable users, developers, and enterprises to harness NFTs with zero friction.
By integrating with OnFinality, builders can now:
Access the Efinity network quickly in minutes without having to set up or manage infrastructure
Enjoy all the benefits that come with OnFinality's Enhanced API including global performance, automated scalability and high availability of up to 99.9% uptime per year!
Deploy "Lightning Restore" for full nodes to be fully-synced in minutes instead of days
Gain valuable API Insights to spot issues on your apps and quickly implement rectifications for a bug-free user experience
Looking to scale your NFT project with OnFinality?
Sign up to the OnFinality app and receive 500,000 free daily responses instantly!
Build Smarter with OnFinality. 😎
About OnFinality
OnFinality is a blockchain infrastructure platform that saves web3 builders time and makes their lives easier. OnFinality delivers scalable API endpoints for the biggest blockchain networks and empowers developers to automatically test, deploy, scale and monitor their own blockchain nodes in minutes. To date, OnFinality has served over hundreds of billions of RPC requests across over 80 networks including Avalanche, BNB Chain, Cosmos, Polkadot, Ethereum, and Polygon, and is continuously expanding these mission-critical services so developers can build the decentralised future, faster!