OnFinality provides Scalable API services to Efinity by Enjin
OnFinality, Polkadot's leading blockchain infrastructure provider, announces a partnership with Enjin. OnFinality will provide scalable API and node services for web3 developers to access the Efinity network in a few clicks.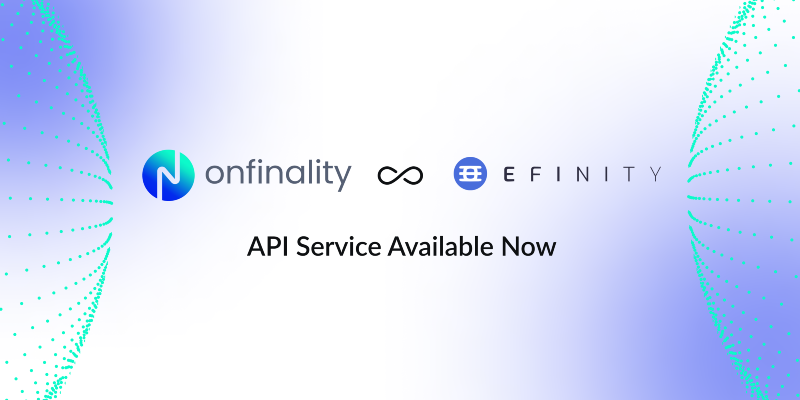 OnFinality, Polkadot's leading blockchain infrastructure provider, is proud to announce its partnership with Enjin, an end-to-end technology stack for NFTs building the foundation of Efinity.
We are thrilled to be announcing our partnership with Enjin, to help accelerate the building of a product ecosystem for humanity to create advanced virtual economies powered by blockchain technology.
OnFinality will provide an easy-to-use, reliable and scalable API for the Efinity parachain to scale faster like never before!
"Partnering with OnFinality marks an important step in solidifying the architectural foundation of an equitable, democratised and value-driven Metaverse on Efinity and Polkadot"
— Rene Stefancic, Chief Operating Officer of Enjin
What is Enjin
Enjin is the leading ecosystem for non-fungible tokens (NFTs), offering a comprehensive suite of products for creating, trading, distributing, and integrating NFTs into virtual worlds. As a scalable, affordable platform, Enjin's technology has seen wide application in blockchain games, apps, enterprise programs, and innovative marketing campaigns. The Enjin ecosystem is fueled by Enjin Coin (ENJ), a utility token used to back the value of blockchain assets, and the native ERC-1155 token standard created by Enjin CTO Witek Radomski. To date, over 1 billion Enjin-powered blockchain assets have already been created.
What is Efinity
Efinity is a scalable, decentralised and cross-chain token infrastructure built to enable users, developers, and enterprises to harness NFTs with zero friction.
The OnFinality integration will enable Enjin users to:
Access the Efinity network quickly in minutes without having to set up or manage infrastructure
Enjoy all the benefits that come with OnFinality's Enhanced API including global performance, automated scalability and high availability of up to 99.9% uptime per year!
Deploy "Lightning Restore" for nodes to be fully-synced in minutes instead of days
Gain valuable API Insights for you to spot issues on your apps and quickly implement rectifications for a bug-free user experience
OnFinality's mission is to support all blockchain teams in the world by providing critical infrastructure so they can focus on their core business. By leveraging OnFinality's expertise in infrastructure the development team at Enjin can focus on building an efficient, stable, and scalable platform in the Metaverse.
"We are incredibly proud to be supporting Enjin in delivering the future of virtual assets for the gaming world. OnFinality's goal is to be a trusted partner of exciting Web3 companies such as Enjin by supporting them with core infrastructure so they can focus on innovation."
— Gary Cashman, Head of Customer Success, OnFinality
Log in to your OnFinality app to access the Enhanced API Service for Efinity now!
About OnFinality
OnFinality is a SaaS platform that provides infrastructure and developer tools that saves developers hours and allows teams to grow with confidence. Our mission is to help blockchain and dApp developers build the decentralised future faster.