OnFinality Helps Web3 Builders Unlock the Power of Cross-Chain and EVM with Evmos
OnFinality, a multi-chain infrastructure provider, adds Evmos to its marketplace supporting over 70 networks!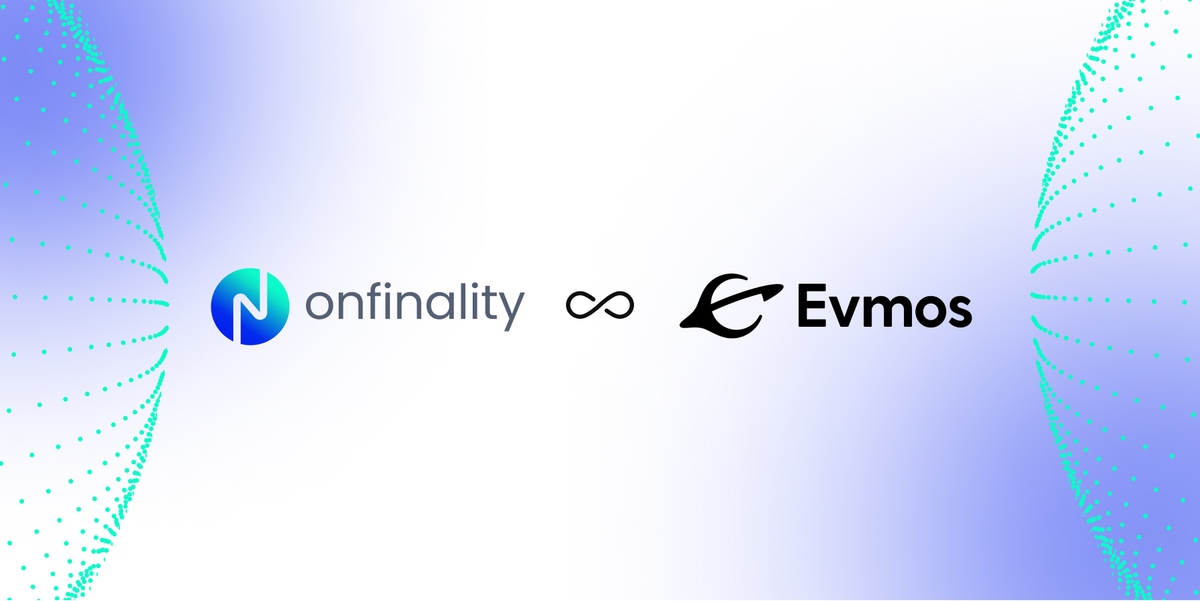 OnFinality, a multi-chain infrastructure provider, announces support for Evmos, a new EVM stack accelerating the cross-chain movement.
We are proud to announce support for Evmos, the Ethereum Virtual Machine (EVM) stack for building natively cross-chain decentralised applications.
OnFinality will provide easy to use, reliable and scalable API endpoints for builders to deploy and run their dApps on Evmos quickly and easily!
"We are proud to be adding Evmos to our growing list of EVM-compatible networks, making it easier than ever for dApp developers to build across the Ethereum and Cosmos ecosystems, and for users to interact with them seamlessly."
— Daniel Vulinovich, Product Manager at OnFinality
What is Evmos? ($EVMOS)
Evmos started as Ethermint, a community-driven EVM chain built with the Cosmos SDK that would serve as the entry point between the Ethereum and Cosmos ecosystems.
The intersection of the EVM with Cosmos SDK modules marries the best of both worlds:
The permissionless extensibility and developer friendliness of a blockchain through the EVM
The unmatched developer freedom of Cosmos SDK modules
Evmos' mission is to create a world where regular users can be onboarded as the next million Web3 users quickly and elegantly, with no detectable contrast in the quality of UX of today's centralised applications and tomorrow's decentralised applications.
They aim to accomplish this by enabling seamless cross-chain deployments with Inter-Blockchain Communication (IBC), that will benefit both users and developers.
Synergies will be discovered with applications that connect and enable rich cross-chain interactions. Applications built on one chain will leverage tools, liquidity, and more from other chains.
Similar to APIs, this would be enabling applications built in one place to incorporate the functionality of applications built elsewhere, whether they are dApps on other chains or application-specific blockchains.
API Endpoints to Scale Your dApps Faster!
By connecting to Evmos with OnFinality's API endpoints, builders will be able to:
Access the Evmos network quickly in minutes without having to set up or manage infrastructure
Enjoy global performance, automated scalability and high availability of up to 99.99% uptime per year!
Gain valuable API Insights for you to spot issues on your apps and quickly implement rectifications for a bug-free user experience
We're providing both public and private endpoints for Evmos (Public endpoints will be heavily rate limited).
Simply sign up to app.onfinality.io to receive your free API key in minutes! Our 'Free Plan' comes with 500,000 daily responses for anyone to get started easily.
For teams looking to take your applications to the next level and ensure that you receive the best performance possible, we highly recommend using an API key. What are the benefits of getting an API key?
👉 Follow along this video to set up your private API endpoint and connect to your favorite networks in a few clicks!
👉 Check out all the premium and security features that come with your private API endpoints!
—
Evmos Public API Endpoints
* Please note that these endpoints are rate limited and are not run to the same reliability standard as the endpoints that our API key customers benefit from.
Websocket: wss://evmos.api.onfinality.io/public/websocket
—
Our mission is to support all blockchain teams in the world by providing critical infrastructure so they can focus on their core business. By leveraging OnFinality's expertise in infrastructure, decentralised application (dApp) teams building on Evmos can now focus on scaling for a global audience.
You may also reach us at sales@onfinality.io to discuss your requirements.
Build Smarter with OnFinality.
About Evmos
Evmos is the leading Ethereum Virtual Machine-based blockchain in the Cosmos ecosystem and enables developers to launch apps that run interoperable smart contracts across any number of EVM and Cosmos-based block chains. It makes that process as simple and seamless as possible by allowing developers to continue creating apps in Solidity and Vyper like they're accustomed to in the Ethereum ecosystem. Evmos opens a new frontier for blockchain applications, expanding the functionality of the EVM by enabling cross-chain applications that tap the liquidity and user bases of multiple blockchain ecosystems to provide more unified experiences through interoperability, novel token economics and in-protocol incentives for users, developers and validators.
Website | GitHub | Twitter | Discord | Telegram
About OnFinality
OnFinality is a blockchain infrastructure platform that saves web3 builders time and makes their lives easier. OnFinality delivers scalable API endpoints for the biggest blockchain networks and empowers developers to automatically test, deploy, scale and monitor their own blockchain nodes in minutes. To date, OnFinality has served over hundreds of billions of RPC requests across 78 networks including Avalanche, BNB Chain, Cosmos, Polkadot, Ethereum, and Polygon, and is continuously expanding these mission-critical services so developers can build the decentralised future, faster!