OnFinality Empowers Anyone to Build on Web3 with Anmol's No-Code Builder!
OnFinality, a multi-chain infrastructure provider, adds Anmol Network to its marketplace supporting over 70 chains, to help web3 users deploy nodes on the network in a few clicks!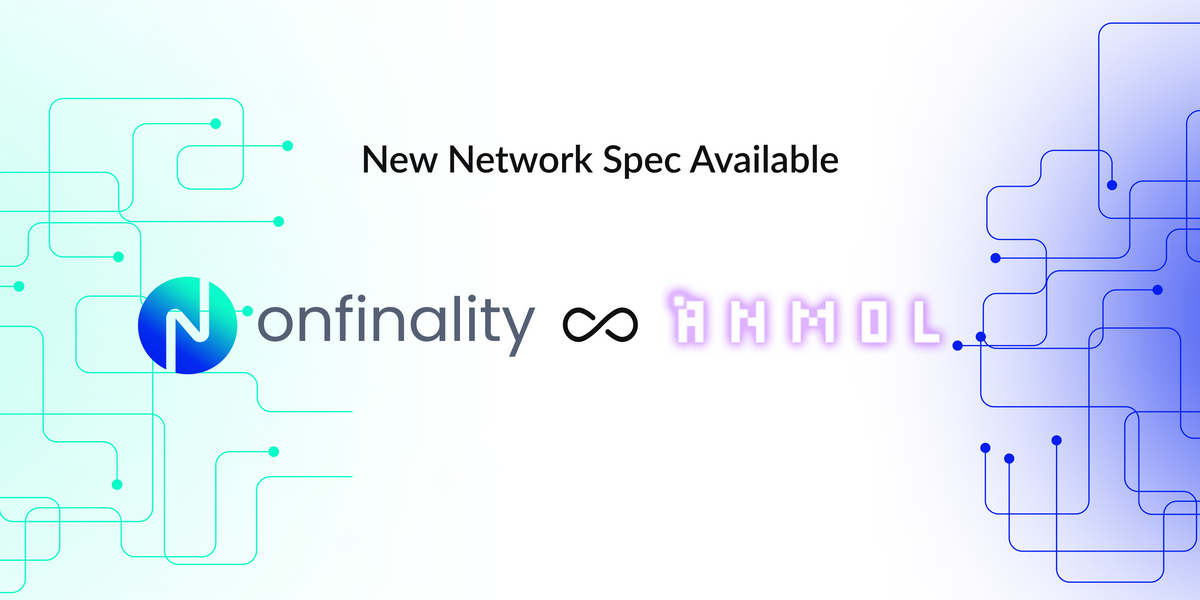 OnFinality, a multi-chain infrastructure provider, announces support for Anmol, a one-click solution for integrating web3 technologies.
We are proud to announce support for Anmol, an all-inclusive and easy to use web3 toolkit for NFTs, Metaverse, GameFi, and DeFi, empowering anyone to get started on web3 with no development skills needed!
"We're proud to be supporting Anmol in accelerating web3 adoption for the masses, by enabling newcomers to jump in and get started on web3 with Anmol's full suite of dApps and tools to enjoy the full spectrum of web3 from owning NFTs to managing DAOs."
— Daniel Vulinovich, Product Manager at OnFinality
OnFinality will provide Anmol users with an easy to use, reliable and scalable one-click node solution to deploy on the network faster than ever!
What is Anmol? ($ANMOL)
Anmol is a blockchain with a full suite of dApps and tools designed to make the transition to Web3 technologies easy for anyone. The platform lets end users create and maintain their own digital assets such as NFTs or Tokens, deploy and manage decentralised community-based DAOs, and more!
Anmol has easy onboarding tools, allowing newcomers to jump in and get involved with the platform, like wallets that can be accessed with their email or phone number.
Businesses and users can get started in minutes with no development skills required, just like Wordpress or Canva, but for Web3!
Multi-Cloud Deployment of Anmol Blockchain Nodes
The addition of Anmol's network spec will enable participants in the Anmol ecosystem to easily and rapidly deploy and manage nodes via any of our supported cloud providers such as Amazon Web Service (AWS), Google Cloud Platform (GCP) and Alibaba Cloud, helping to scale the network faster than ever!
Benefits Of Deploying Anmol Nodes Through OnFinality
Incredibly Easy — Deploy Full/ Validator/ Archive Anmol nodes on-demand without having to set up infrastructure of your own
Scalable — Upsize and downsize your nodes easily in a few clicks
Cost-Efficient — Pay for only what you need. You no longer have to buy or set up your own hardware or make tools to monitor your node's health and performance
Visibility — Simply connect to our Node Metric Endpoint for automated monitoring and alerts on your node's health
You can now log in to see Anmol's network spec in the OnFinality Marketplace.
👀 Follow along this video to see how easy it is to deploy a node with OnFinality!
Build Smarter with OnFinality. 😎
About Anmol Network
Anmol Network is "The Ultimate No-Code Builder For Web3". Offering simple and easy-to-use one-click solutions to help businesses or users to integrate blockchain and Web3 technologies into their business model, or digital identity with Multi-Chain DApps and Tools that output customized and branded interfaces for end users.
Anmol Network offers tools for NFTs, Metaverse, GameFi, and DeFi, as well as Social Tools that bring the connectivity and engagements of social networks to the Blockchain space. Whether a user wants a new audited token with customized vesting, a DAO, a generative art NFT project of thousands, or even millions of NFTS, this and much more can happen in minutes using Anmol's tools and DApps with no development skills required. Anmol Network is just like a Wordpress or Canva, but for Web3!
Website | Twitter | Telegram | Instagram | Discord | Github
About OnFinality
OnFinality is a blockchain infrastructure platform that saves web3 builders time and makes their lives easier. OnFinality delivers scalable API endpoints for the biggest blockchain networks and empowers developers to automatically test, deploy, scale and monitor their own blockchain nodes in minutes. To date, OnFinality has served over hundreds of billions of RPC requests across 78 networks including Avalanche, BNB Chain, Cosmos, Polkadot, Ethereum, and Polygon, and is continuously expanding these mission-critical services so developers can build the decentralised future, faster!