OnFinality helps unleash an effective blockchain creator economy with InvArch's Tinkernet
OnFinality, a multi-chain infrastructure, adds support for the InvArch Tinkernet parachain, to accelerate the launch of decentralised communities, borderless businesses, & unstoppable organizations on Polkadot!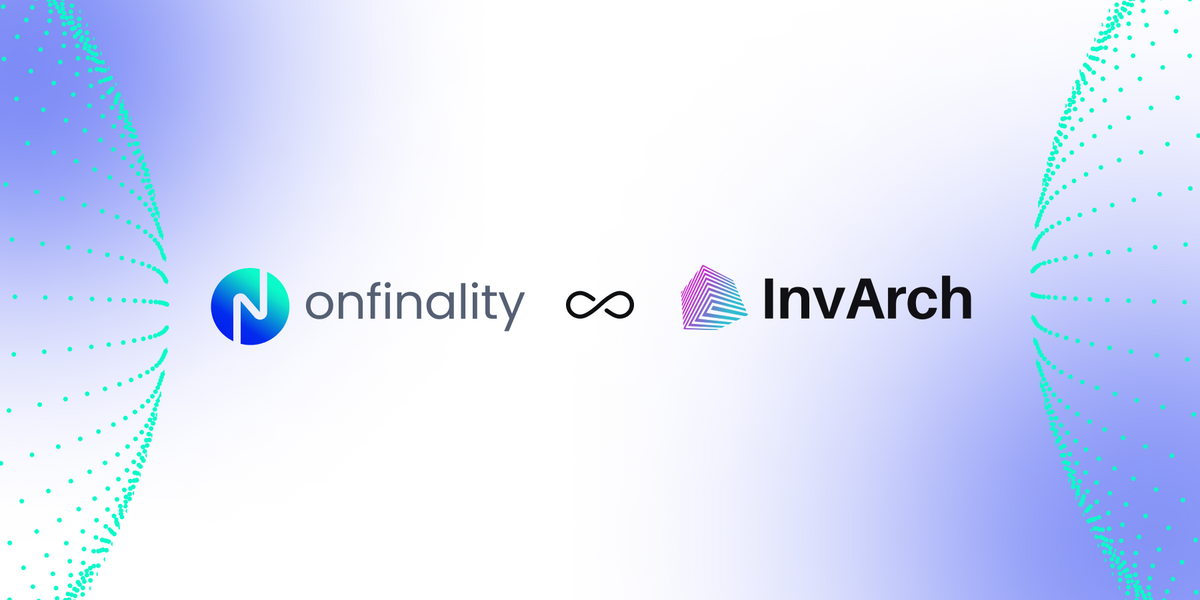 OnFinality, a multi-chain infrastructure provider, announces support for InvArch Tinkernet, InvArch's canary parachain on the Kusama network.
We are proud to announce support for InvArch Tinkernet, the economic powerhouse & permissionless funding hub of the InvArch Network.
OnFinality will provide easy to use, reliable and scalable API endpoints for builders to deploy and run their dApps on InvArch Tinkernet, as well as a one-click node solution for users to help scale the network faster than ever!
"OnFinality is proud to be driving the blockchain creator economy by providing easy and reliable access to InvArch's test environment, Tinkernet, for dApp and applications to build and launch on mainnet seamlessly."
— Daniel Vulinovich, Product Manager at OnFinality
What is InvArch? ($VARCH)
InvArch is a highly optimised network for launching decentralised communities, borderless businesses, and unstoppable organisations on Polkadot and beyond!

It aims to provide a solution to grow and develop ideas, protect IP, and tokenize innovative ideas. These can range from anything from audio, photos, videos, business relationships and real estate ownership, to licensing and streamlining management rights. Concurrently, it aims to create more revenue streams from tokenized intellectual property.

Simply put, all ideas become tokens that are directly owned by the owner and do not require lengthy patent procedures at the on-chain level. The owner can also share intellectual property tokens with individuals with resources to help kick start their project. For example, invite interested investors, and allow them to have a certain percentage of ownership over the IP set.
What is Tinkernet? ($TNKR)
Tinkernet was created as a test network of the mainnet, InvArch network, an environment where users can test their code before going into the InvArch mainnet.
The main notion of Tinkernet is no different from InvArch's, that's important. The difference is that on Tinkernet, developers, innovators, etc., can launch their projects as their "First-to-Market" projects on the Canary Network, using the tools and going with the fast-pace, experimental environment that the Kusama network provides.
By connecting to Tinkernet with OnFinality's API endpoints, builders will be able to:
Access the Tinkernet network quickly in minutes without having to set up or manage infrastructure
Enjoy global performance, automated scalability and high availability of up to 99.99% uptime per year!
Gain valuable API Insights for you to spot issues on your apps and quickly implement rectifications for a bug-free user experience
We're providing both public and private endpoints for Tinkernet (Public endpoints will be heavily rate limited).
Simply sign up to app.onfinality.io to receive your free API key in minutes! Our 'Free Plan' comes with 500,000 daily responses for anyone to get started easily.
For teams looking to take your applications to the next level and ensure that you receive the best performance possible, we highly recommend using an API key. What are the benefits of getting an API key?
In addition, OnFinality also provides the ability for participants in the Tinkernet ecosystem to rapidly deploy and manage nodes via any of our supported cloud providers such as Amazon Web Service (AWS), Google Cloud Platform (GCP) and Alibaba Cloud.
Benefits of deploying Tinkernet nodes through OnFinality
Easy — Deploy Dedicated Nodes easily and quickly via our on-demand node deployment service without worrying about setting up hardware from scratch
Scalable — Upsize and downsize your nodes easily in a few clicks!
Cost-Efficient — Pay for only what you need. You no longer have to buy or set up your own hardware or make tools to monitor your node's health and performance
Visibility — Simply connect to our Node Metric Endpoint for automated monitoring and alerts on your node's health
You can now log in to see Tinkernet's network spec in the OnFinality Marketplace.
Our mission is to support all blockchain teams in the world by providing critical infrastructure so they can focus on their core business. By leveraging OnFinality's expertise in infrastructure, decentralised application (dApp) teams building on Tinkernet can now focus on scaling for a global audience.
—
Tinkernet Public API Endpoints
* Please note that these endpoints are rate limited and are not run to the same reliability standard as the endpoints that our API key customers benefit from.
Websocket: wss://invarch-tinkernet.api.onfinality.io/public-ws
You may also reach us at sales@onfinality.io to discuss your requirements.
Build Smarter with OnFinality.
—
About InvArch Tinkernet
InvArch is a highly optimised network for launching decentralised communities, borderless businesses, & unstoppable organisations on Polkadot and beyond!
The Tinkernet Parachain is the canary network of the InvArch Network, designed as the IP Asset & accelerated development staging grounds for the Kusama ecosystem. The Tinkernet serves a trio of testing purposes, one for the developers who maintain the network, one for the developers who build on top of the network, and one for the end-users of dApps & applications in the ecosystem.
Website | Twitter | Discord | LinkedIn | Telegram | Reddit | GitHub | Medium
About OnFinality
OnFinality is a blockchain infrastructure platform that saves web3 builders time and makes their lives easier. OnFinality delivers scalable API endpoints for the biggest blockchain networks and empowers developers to automatically test, deploy, scale and monitor their own blockchain nodes in minutes. To date, OnFinality has served over hundreds of billions of RPC requests across 80 networks including Avalanche, BNB Chain, Cosmos, Polkadot, Ethereum, and Polygon, and is continuously expanding these mission-critical services so developers can build the decentralised future, faster!