OnFinality Powers BNB Chain with Scalable API Services
OnFinality, a multi-chain infrastructure platform, provides easy, reliable and scalable API endpoints for dApp builders to access the BNB Chain faster!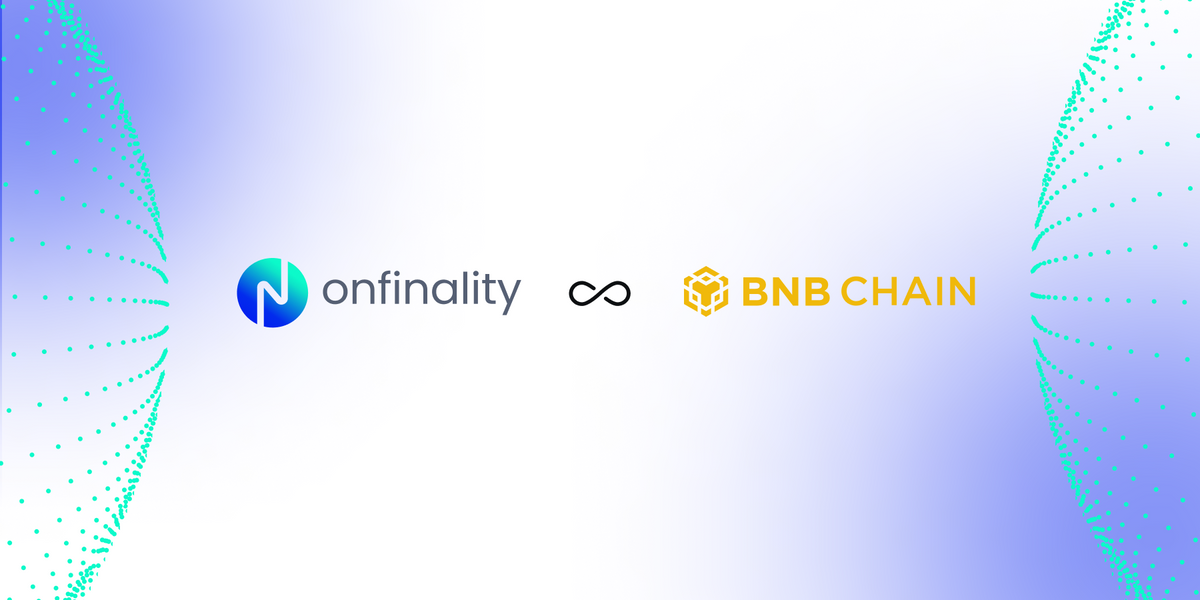 OnFinality, a multi-chain infrastructure provider, announces support for with Build N Build (BNB) Chain, a distributed network for large-scale decentralised applications.
We are proud to announce support for BNB Chain, the world's largest smart-contract blockchain!
OnFinality will provide BNB Chain with easy to use, reliable and scalable API endpoints for builders to access the network quickly and easily!
What is BNB Chain?
BNB Chain was originally initiated by Binance and has since grown to become a community-driven, permissionless, and decentralised blockchain ecosystem.
BNB Chain comprises 'BNB Beacon Chain' (previously Binance Chain) for BNB Chain governance (staking, voting), as well as 'BNB Smart Chain' (BSC) (previously Binance Smart Chain) — Ethereum Virtual Machine (EVM) compatible, providing consensus layers, with hubs to multi-chains.
What is Binance? ($BNB)
Binance is the world's largest cryptocurrency exchange by trading volume. It was founded by Changpeng Zhao (also known as CZ) in 2017, as a simple-to-use trading platform for people to trade digital assets such as Bitcoin and Ethereum.
It has since grown to become a leading blockchain ecosystem, with a suite of other services such as Binance Labs (an accelerator for blockchain projects), Binance Pay (a decentralised crypto payment technology), and Binance Academy (an open-access blockchain education hub).
API Endpoints to Scale Your dApp Faster!
By connecting to BNB Chain with OnFinality's API endpoints, builders will be able to:
Access the BNB Chain quickly in minutes without having to set up or manage infrastructure
Enjoy global performance, automated scalability and high availability of up to 99.99% uptime per year!
Gain valuable API Insights for you to spot issues on your apps and quickly implement rectifications for a bug-free user experience
Log in to your OnFinality app to access the Enhanced API Service for BNB Chain now!
How to Connect to BNB Chain
You can access our public API service by connecting to it using the endpoints listed below:
BNB Chain's API Endpoints:
Websocket: wss://bnb.api.onfinality.io/public-ws
Our mission is to support all blockchain teams in the world by providing critical infrastructure so they can focus on their core business. By leveraging OnFinality's expertise in infrastructure, decentralised application (dApp) teams building on BNB Chain can now focus on scaling for a global audience.
"We are proud to be powering BNB Chain with scalable API infrastructure for more builders to access the network faster than ever. We can't wait to see what dApps get built on BNB Chain via OnFinality!"
— Daniel Vulinovich, Product Manager at OnFinality
For teams looking to take your applications to the next level and ensure that you receive the best performance possible, we highly recommend using an API key.
What are the benefits of getting an API key?
Simply sign up here to receive your free API key in minutes! Our 'Free Plan' comes with 500,000 daily responses for anyone to get started easily.
You may also reach us at sales@onfinality.io to discuss your requirements.
Build Smarter with OnFinality.
About BNB Chain
BNB Chain, formerly Binance Smart Chain, is a community-driven, decentralized and censorship-resistant blockchain, powered by BNB. It consists of BNB Beacon Chain and BNB Smart Chain (BSC), which is EVM compatible and facilitates a multi-chain ecosystem. It is the world's largest smart contract blockchain in terms of transaction volume and daily active users. It has processed 3 billion transactions to date from 163 million unique addresses, bringing developers massive user access with ultra-low gas fees and zero downtime since inception. The ecosystem has more than 1,300 active dApps across multiple categories such as DeFi, Metaverse, blockchain games, NFT, and more.
Website | Twitter | Twitter (Devs) | Telegram | dApp Store | YouTube | Discord | Build N' Build Forum | Dev Community |
About OnFinality
OnFinality is a blockchain infrastructure platform that saves web3 builders time and makes their lives easier. OnFinality delivers scalable API endpoints for the biggest blockchain networks and empowers developers to automatically test, deploy, scale and monitor their own blockchain nodes in minutes. To date, OnFinality has served over 300 billion RPC requests across 70 networks including Polkadot, Ethereum, Moonbeam, Astar, Avalanche and Cosmos, and is continuously expanding these mission-critical services so developers can build the decentralised future, faster!