OnFinality Web3 Builders' Update
OnFinality, a multi-chain infrastructure provider, continues to expand its services with 2 new chains and a game-changing Unified NFT API.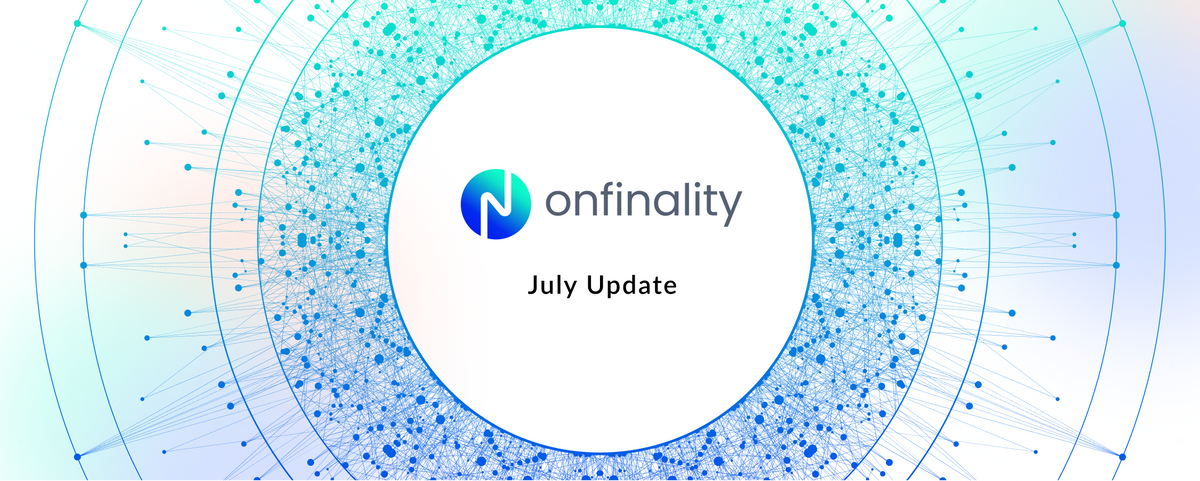 July 2023 Summary
Lifetime Report
Stability
Entering into the second half of 2023, we continue to deliver reliable, scalable and high performing solutions across 88 chains including Avalanche, BNB Chain, Ethereum, Polkadot and Polygon, maintaining our 99.99% uptime target (less than 53 minutes of downtime per year)!
You can follow along with our target uptime by viewing the live numbers on our status page (https://status.onfinality.io/).
Chain Support Announced
In July, we added API for 2 EVM-compatible chains, Kava chain and OKT Chain by OKX, bringing the grand total number of supported chains to 88!
Kava is a decentralised blockchain that combines the flexibility and speed of Ethereum smart contract development with the interoperability of the Cosmos SDK.
OKT Chain (OKTC), developed by OKX, is an EVM- and IBC-compatible L1 built on Cosmos with a focus on true interoperability and maximised performance. At high scalability, developers can build and scale with low gas fees.
Easy, Reliable and Scalable API Support
Our elastic API service is a globally distributed service that ensures your users receive the lowest latency service possible. We have been serving over 1 Billion JSON RPC requests to our public API service every day at 99.99% uptime target.
Connect in seconds to enterprise grade endpoints that scale infinitely and rely on archive nodes to provide full history of the chain.
Sign up to the OnFinality app to receive 500,000 free daily responses instantly!
New Feature
Designed to revolutionise the way you interact with NFTs, our Unified NFT API (beta) provides seamless access to NFTs and their metadata across the Polkadot and Kusama ecosystems, and beyond.
Learn more about this game-changing feature.
Before you get started on your next NFT-powered project, it will be good to understand commonly used NFT standards and what they are used for.
Check out this article explaining 3 prominent token standards: ERC20, ERC721 and ERC1155.
Developer Guides
The success of your blockchain application depends on a variety of factors, one of the fundamental and most crucial factors being the blockchain network it is built on.
Follow this guide to choose a blockchain best suited for your dApp.
Choosing the right web3 wallet is crucial for anyone venturing into the world of dApps and cryptocurrencies. A well-selected wallet ensures the safety of your digital assets, protects your privacy, and provides a user-friendly interface for seamless interactions with dApps.
Learn how to select a web3 wallet.
'Introduction to Web3' Series
In the latest of our 'Introduction to Web3' series, we dissect one of the most crucial but overlooked sectors in web3 - DePINs (Decentralised Physical Infrastructure Networks).
Find out how DEPINs could transform many of the essential services that impact our daily lives (telecommunications, energy, IoT and more).
Stay tuned to our blog for new releases in this series!
Polkadot Decoded 2023
Our amazing Technology Evangelist, Marta Adamczyk, shared OnFinality's years of experience and expertise as the leading provider in the Polkadot ecosystem, to help developers stay ahead in the ever-evolving landscape of blockchain technology.
Watch the recording here:
Build Smarter with OnFinality. 😎
About OnFinality
OnFinality is a blockchain infrastructure platform that saves web3 builders time and makes their lives easier. OnFinality delivers scalable API endpoints for the biggest blockchain networks and empowers developers to automatically test, deploy, scale and monitor their own blockchain nodes in minutes. To date, OnFinality has served hundreds of billions of RPC requests, supports over 90 networks including Avalanche, BNB Chain, Cosmos, Polkadot, Ethereum, and Polygon, and is continuously expanding these mission-critical services so developers can build the decentralised future, faster!