OnFinality's Highly Scalable RPC API Helps Ethereum Scale Faster Than Ever
OnFinality, a blockchain infrastructure provider supporting over 60 chains across Avalanche, Cosmos and Polkadot, announces JSON-RPC API support for Ethereum network to help web3 developers scale the network faster than ever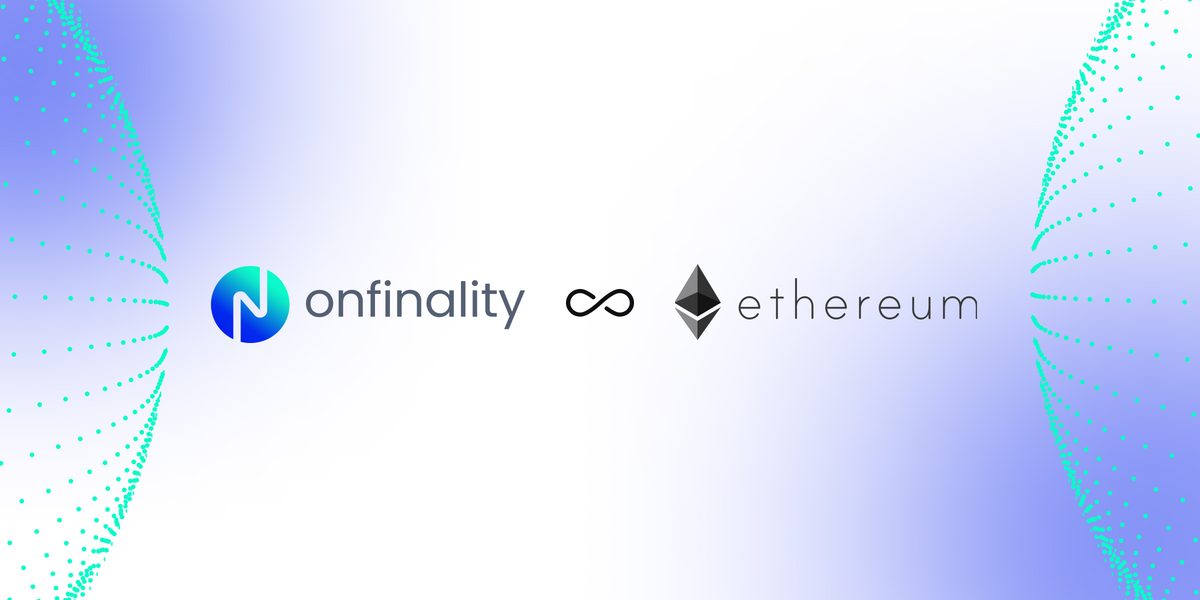 OnFinality, a leading multi-chain infrastructure provider, announces highly scalable RPC API support for developers to connect to the Ethereum network in seconds.
OnFinality has been supporting over 60 networks across Layer-1 ecosystems such as Polkadot, Avalanche and Cosmos, and are continuously expanding our mission-critical services to other ecosystems to help developers build the decentralised future, faster! Faster than any single node, our globally distributed Enhanced API service provides reliable and scalable endpoints for your applications.
Today we are incredibly proud to be launching API support for the Ethereum ecosystem, allowing developers to deploy all kinds of dApps on Ethereum in a matter of seconds! Our existing customers have long requested Ethereum support from our team, and we're pleased to support them with one service to connect to the leading generation 3 blockchain. "OnFinality's mission is to support as many blockchain teams as possible to help them build the decentralised future, faster! To date, we've already served over 287 Billion requests across Polkadot, Avalanche and Cosmos. We are proud to be expanding this same reliable and highly scalable API to the Ethereum ecosystem in our push to be truly multi-chain."
"Following the merge, the Ethereum network is now more energy-efficient, scalable and secure. OnFinality's easy to use and highly-scalable RPC API support will enable web3 builders to easily deploy dApps and introduce a host of new features to the network in a matter of clicks."
— Daniel Vulinovich, Product Manager at OnFinality
OnFinality's Ultimate API Service allows our Ethereum customers to:
Access the Ethereum network quickly in minutes without having to set up or manage infrastructure
Connect in seconds and enjoy an uninterrupted premium service that will allow your apps to grow infinitely.
Access full archive nodes with no hidden costs or fees. Query the entire history of the network and never miss a block.
Enjoy all the benefits that come with OnFinality's Enhanced API including global performance, automated scalability and high availability of up to 99.9% uptime per year!
Access extensive and intuitive monitoring to better understand the request that you're making and the behaviour of your users, so you can optimise and improve your dApp.
OnFinality's intelligent routing means that all customers get the fastest performance possible from our globally distributed network of managed nodes.
Log in to your OnFinality app to access the JSON-RPC API Service for Ethereum now!
We are also providing the community with limited access, rate limited public API endpoints so you can start building faster.
For teams looking to take your applications to the next level and ensure that you receive the best performance possible, we highly recommend using an API key. What are the benefits of getting an API key?
Simply sign up here to receive your free API key in minutes! Our 'Free Plan' comes with 500,000 daily responses for anyone to get started easily.
Build Smarter with OnFinality.
About Ethereum ($ETH)
Ethereum is a technology for building apps and organisations, holding assets, transacting and communicating without being controlled by a central authority. There is no need to hand over all your personal details to use Ethereum — you keep control of your own data and what is being shared. Ethereum has its own cryptocurrency, Ether, which is used to pay for certain activities on the Ethereum network.
Github | Twitter | YouTube | Discord
About OnFinality
OnFinality is a blockchain infrastructure platform that saves Web3 builders time and makes their lives easier. OnFinality delivers scalable API endpoints for the biggest blockchain networks and empowers developers to automatically test , deploy, scale and monitor their own blockchain nodes within minutes. To date, OnFinality has served over 287 billion RPC requests across 60 networks including Polkadot, Kusama, Moonbeam, Astar, Avalanche and Cosmos, and is continuously expanding these mission-critical services so developers can build the decentralised future, faster!