OnFinality Heads To The Sub0 Developer Conference To Help Push The Boundaries of Web3 Technology!
OnFinality, a leading blockchain infrastructure provider, goes to the sub0 developer conference to help Polkadot and Substrate builders push the boundaries of web3 technology!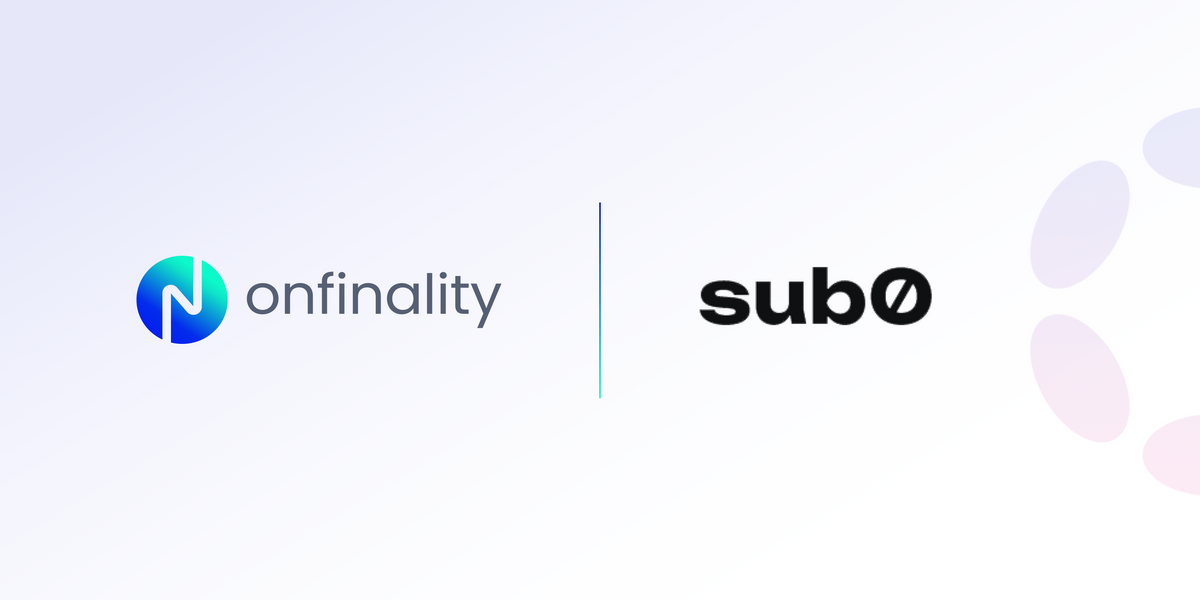 OnFinality, Polkadot's largest infrastructure provider, goes to the sub0 conference in Lisbon to help builders discover and push the boundaries of what's possible in web3!
OnFinality is a blockchain infrastructure platform that aims to support all blockchain teams in the world by providing mission critical, reliable and scalable infrastructure so that web3 teams can focus on building the decentralised future, faster.
This November, Marta Adamczyk, our Technology Evangelist, heads to the Polkadot Developer Conference of the year, to learn the latest developments in Polkadot and share how OnFinality can help builders accelerate the evolution of web3.
Marta Adamczyk, Technology Evangelist at OnFinality
Marta is a huge technology enthusiast passionate and experienced across entire product cycles — from the technical aspects of programming & product development to the business & marketing fronts.
She currently manages Developer Relations and Business Development at OnFinality, and her exemplary knowledge on both the front end as well as the developer end of the business allows her to quickly understand teams' requirements and recommend a tailored solution for their needs.
👉Follow Marta on Twitter & LinkedIn or connect with Marta on Telegram!
What Is sub0?
sub0 is the conference for developers building at every level of the Polkadot tech stack, from custom layer-1 blockchains to dApps & smart contracts, infrastructure, tooling, cross-chain interoperability solutions, and more.
Polkadot Barcamp Session — Polkadot Brand Marketing
Following sub0, Marta hosted a 2.5 hour Barcamp Session joined by Parity, sparking fierce yet interesting and insightful conversations on gaps within the ecosystem and how it could better portray itself in the broader web3 space. The full house session was attended by teams like Astar, Kilt, Interlay, Phala, Moonbeam, Kodadot, Totem Kapex, DAMFinance, Imbue, Bitgreen and many more.
Congratulations on making it to the end of the article! If you're a builder/ team that has been impacted by the recent crypto meltdown, here's one reason to keep building!
We've recently rolled out a 'Build Smarter Support Package' to take some of the load off web3 builders amid the ongoing crypto storm, so that you can focus on building without further disruptions.
You can check out the 'Support Package' here.
Ready to start building? Let OnFinality help you build for a global audience from the get go!
Whether you are building your first test network or dApp, or already running a main net with millions of users, OnFinality has all the tools to take your project to the next level!
The best part? We manage all the infrastructure!
No need to worry about having to buy or set up infrastructure from scratch!
Enhanced API
Since our founding in 2019, we have served over 277 Billion responses across major blockchains like Avalanche, Cosmos, Polkadot, Kusama, Astar, Moonbeam and over 40 other chains.
Connect to any of our supported networks quickly in minutes and enjoy all the benefits that come with our Enhanced API including global performance, automated scalability and high availability of up to 99.9% uptime per year!
What's more, we provide valuable API Insights for you to spot issues on your apps and quickly implement rectifications for a bug-free user experience.
Run A Node
You can also deploy reliable, scalable and fast nodes in a few clicks via our on-demand node solution, supporting over 60 networks in our marketplace.
Sign up to the OnFinality app now to run a validator in 3 minutes!
Check out this one minute video to see how easy it is to deploy a node on OnFinality!
You may also reach us at sales@onfinality.io or join our Telegram community (@OnFinality) to discuss your requirements.
Build Smarter with OnFinality.
About OnFinality
OnFinality is a blockchain infrastructure platform that saves web3 builders time and makes their lives easier. OnFinality delivers scalable API endpoints for the biggest blockchain networks and empowers developers to automatically test, deploy, scale and monitor their own blockchain nodes in minutes. To date, OnFinality has served over 277 billion RPC requests across 60 networks including Astar, Avalanche, Cosmos, Polkadot, Kusama, and Moonbeam, and is continuously expanding these mission-critical services so developers can build the decentralised future, faster!