NFT Standards: What they are and how they are used
Join OnFinality, a multi-chain infrastructure provider, in learning about common NFT Standards and their uses.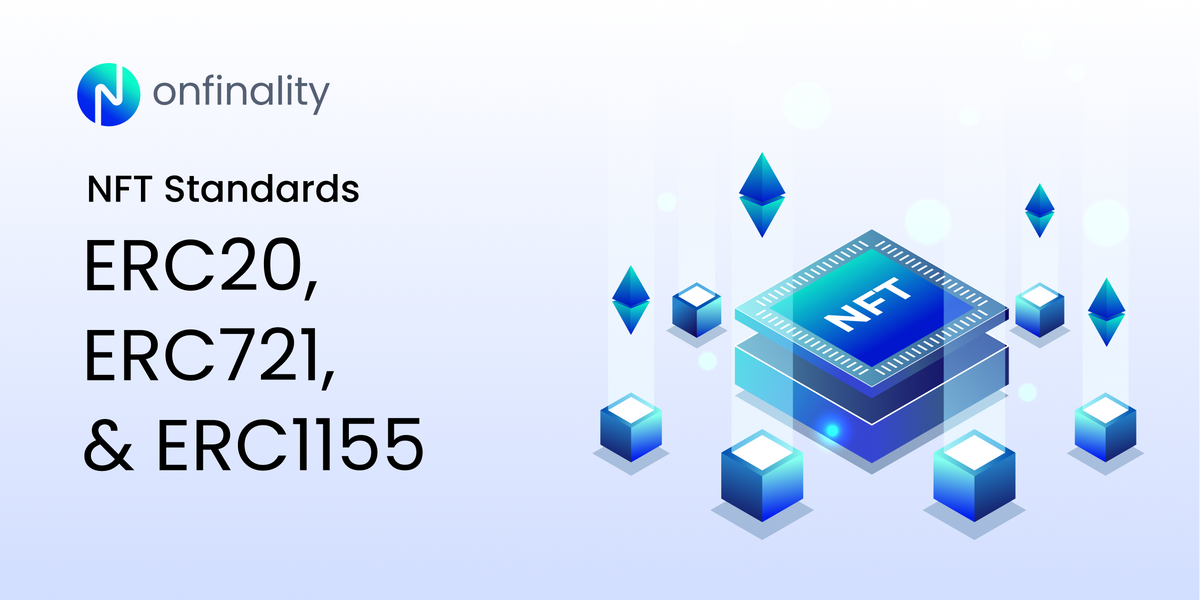 OnFinality is a blockchain infrastructure platform that saves web3 builders time and makes their lives easier. We deliver easy-to-use, reliable and scalable API endpoints for the biggest blockchain networks and empower developers to automatically test, deploy, scale and monitor their own blockchain nodes in minutes.
With the recent launch of our Unified NFT API, seamless access to NFTs and their metadata across the Polkadot and Kusama ecosystems such as networks like Acala, Astar, Shiden, Moonbeam, and Moonriver, are now possible!
In this article, we dive into the world of NFT standards, explaining what they are, their significance, and compare three prominent token standards: ERC20, ERC721, and ERC1155.
What are NFT Standards?
NFT standards are a set of rules and protocols that define the structure and functionality of non-fungible tokens (NFTs) within a blockchain ecosystem. These standards ensure interoperability and compatibility between different NFT applications and platforms.
By adhering to a specific NFT standard, developers and creators can create, exchange, and manage unique digital assets, such as art, collectibles, and virtual real estate, with ease.
Standardisation ensures that NFTs are compatible with various decentralised marketplaces, wallets, and platforms, fostering a thriving and interconnected NFT ecosystem.
The Importance of Understanding NFT Standards
As each standard serves different use cases, a solid comprehension of commonly used NFT standards will enable you to choose the most appropriate standard for your NFT project.
Moreover, as the NFT landscape develops, staying updated to emerging standards is imperative to remain competitive in this ever-evolving sector. Embracing multiple NFT standards will also enable you to integrate seamlessly with different blockchain networks as your project scales.
What is ERC20?
ERC20 is one of the most widely adopted token standards on the Ethereum blockchain, primarily used for fungible tokens, which are interchangeable and mutually interchangeable.
Though not designed explicitly for NFTs, ERC20 tokens have found utility in specific NFT contexts, such as in the creation of wrapped NFTs. Wrapped NFTs are ERC20 tokens that represent ownership of an underlying NFT, enabling them to be traded on decentralised exchanges and utilised in DeFi protocols. This bridge between fungible and non-fungible tokens has expanded the possibilities for NFTs in the broader blockchain ecosystem.
What is ERC721?
ERC721 is a widely recognised NFT standard on the Ethereum blockchain. It provides a blueprint for creating unique and indivisible tokens, making it ideal for digital collectibles, art, and other assets where scarcity and uniqueness are crucial.
Each ERC721 token possesses a distinct identity, allowing it to be owned, bought, and sold as a one-of-a-kind asset. Its adoption has given rise to a vibrant market for rare and valuable digital assets, capturing the attention of artists, collectors, and investors alike.
What is ERC1155?
ERC1155 is a hybrid token standard on the Ethereum blockchain that combines features of both ERC20 and ERC721. It allows developers to create both fungible and non-fungible tokens within the same smart contract, providing greater flexibility and efficiency for managing digital assets.
This standard is particularly suitable for blockchain-based games, where various in-game items, some unique and others interchangeable, can coexist seamlessly within the same ecosystem, reducing gas costs and simplifying development efforts.
What is the difference between ERC721 and ERC1155?
The main distinction between ERC721 and ERC1155 lies in their token design. ERC721 tokens are unique and indivisible, making them perfect for representing exclusive digital assets like collectibles and art. In contrast, ERC1155 tokens can represent both fungible and non-fungible assets within a single contract, making them more versatile for applications like gaming, where a combination of unique and interchangeable items is required.
Emerging NFT Standards
Apart from the well-known ERC20, ERC721, and ERC1155 standards, the NFT landscape continues to evolve with the emergence of new standards. For instance, ERC721A, ERC6551, ERC721C, BRC721, and SRC20 are among the latest standards that developers should keep an eye on.
These evolving standards cater to specific niches and use cases, expanding the scope and possibilities of NFTs. Staying up-to-date with these developments ensures that you can harness the latest advancements and remain at the forefront of the rapidly growing NFT ecosystem.
Congratulations!
Now that you've learned about the various NFT standards and their applications, you are ready to unleash your creativity and revolutionise the world of unique digital assets across diverse blockchain networks.
Build Smarter with OnFinality. 😎
About OnFinality
OnFinality is a blockchain infrastructure platform that saves web3 builders time and makes their lives easier. OnFinality delivers scalable API endpoints for the biggest blockchain networks and empowers developers to automatically test, deploy, scale and monitor their own blockchain nodes in minutes. To date, OnFinality has served hundreds of billions of RPC requests, supports over 85 networks including Avalanche, BNB Chain, Cosmos, Polkadot, Ethereum, and Polygon, and is continuously expanding these mission-critical services so developers can build the decentralised future, faster!