OnFinality Partners with Pocket Network to Unlock Access to Unstoppable Web3 Infrastructure
OnFinality, a multi-chain infrastructure provider, partners with Pocket Network, to empower web3 builders with open access to easy, reliable and scalable RPC services!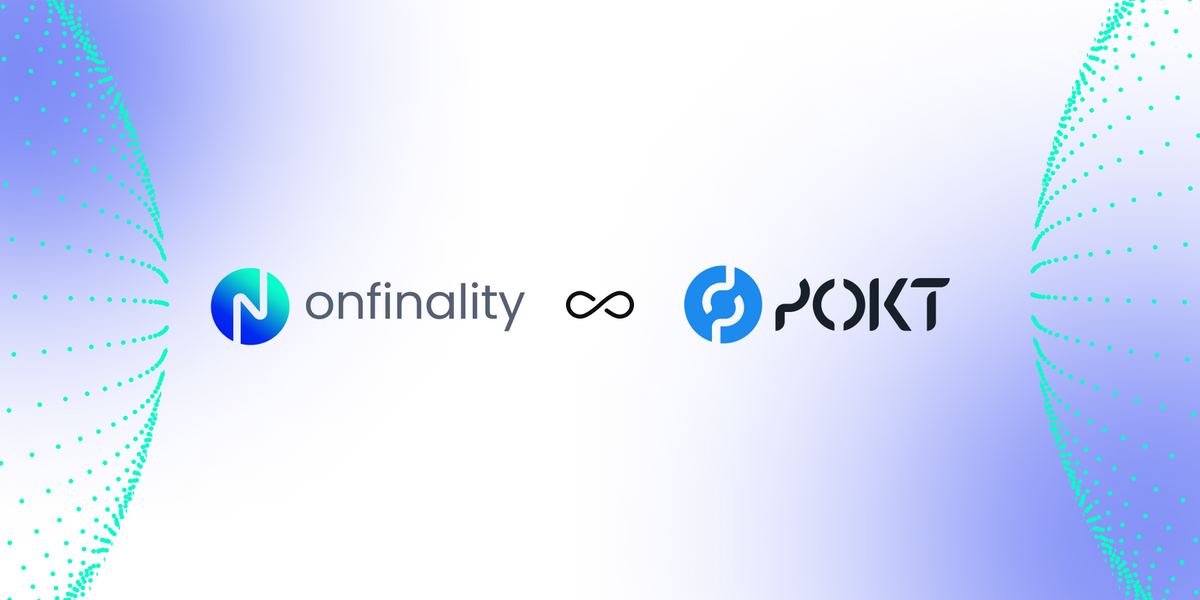 OnFinality, a multi-chain infrastructure provider, joins hands with Pocket Network to accelerate web3 adoption with unstoppable infrastructure.
OnFinality is a blockchain infrastructure platform that aims to support all blockchain teams in the world by providing mission critical, reliable and scalable infrastructure so that web3 teams can focus on building the decentralised future, faster.
Today we are proud to announce our partnership with Pocket Network to help grow and strengthen the reach and coverage of both our respective services across the wider web3 ecosystem.
"We're thrilled to partner with OnFinality, a leader in the web3 infrastructure space, and especially within the Polkadot and Kusama ecosystems. This partnership not only strengthens both of our services but also aligns with our shared vision of putting developers first and delivering unstoppable infrastructure for web3 access. Together, Pocket Network and OnFinality can empower developers even further and contribute to the growth and evolution of blockchain infrastructure."
— Arthur Sabintsev, COO, Pocket Network Inc.
Accelerating Web3 Adoption through Strategic Collaboration
OnFinality will leverage Pocket Network's existing integrations with 43 major blockchains such as Fantom and more, to provide an even wider range of access to teams building with OnFinality.
Simultaneously, OnFinality will help Pocket Network Inc. spin up new chain infrastructure and add new integrations for Polkadot chains with its deep expertise and experience as the leading infrastructure provider in the Polkadot and Kusama ecosystems.
"Having spoken numerous times and in-person at ETHDenver recently, we were just blown away by the team's unwavering determination and commitment to bring unstoppable infrastructure to web3. We are incredibly proud to be collaborating with such a highly motivated team that shares the same values and vision with that of OnFinality. I am confident that together, we can achieve new heights in web3 infrastructure."
— Sam Zou, Founder of OnFinality
OnFinality is already supporting over 70 chains in its marketplace including Layer 1 ecosystems such as Avalanche, BNB Chain, Cosmos, Polkadot and Ethereum, and are rapidly expanding our offerings to empower web3 developers to build seamlessly across multiple ecosystems.
Build Smarter with OnFinality. 😎
—
🔗 Check out OnFinality's list of supported networks here.
🐦 Follow us on Twitter for the latest updates on chains added.
💬 Got a question? Join our community of builders on Telegram.
📧 For business enquiries, email us at sales@onfinality.io.
About Pocket Network
Pocket Network is a decentralised RPC service that connects dApps with more than 40 supported blockchains. Pocket's protocol uses a decentralised network of more than 20,000 nodes around the world to service billions of RPC relays for dApps. Pocket Network delivers blockchain data to applications with maximum uptime and low latency, and the Pocket DAO plays a key part in evolving the protocol and growing the Pocket Network ecosystem.
Website | Twitter | LinkedIn | YouTube | Telegram | Discord
About OnFinality
OnFinality is a blockchain infrastructure platform that saves web3 builders time and makes their lives easier. OnFinality delivers scalable API endpoints for the biggest blockchain networks and empowers developers to automatically test, deploy, scale and monitor their own blockchain nodes in minutes. To date, OnFinality has served over 300 billion RPC requests across 70 networks including Avalanche, BNB Chain, Cosmos, Polkadot, Ethereum, and Polygon and is continuously expanding these mission-critical services so developers can build the decentralised future, faster!