OnFinality partners with Polkadex to provide one-click node deployment
OnFinality, the largest Polkadot blockchain infrastructure provider, enables web3 developers to run their own validator nodes on Polkadex via its one-click-deploy node service.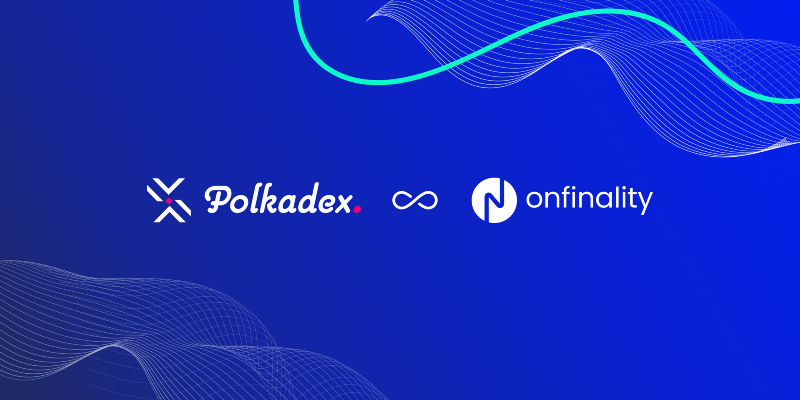 OnFinality makes it easy to launch Polkadex validator nodes
OnFinality, a leading blockchain infrastructure as a service platform, is providing the ability for Polkadex community members to run their own validator nodes without needing to buy and/or set up their own hardware. Community members only have to pay a small hourly charge to OnFinality to rent this node while it is running
OnFinality provides core infrastructure services for the future of Web3 and allows anybody to run reliable, scalable, and fast nodes. In the case of Polkadex, OnFinality lets future Polkadex validators focus on building out a community of nominators and maximizing their validator's profits. This is all made possible by OnFinality's one-click-deploy node service which in the case of Polkadex, can be explained with this simple walk-through guide.
Why Polkadex is working with OnFinality
OnFinality's mission is to support all blockchain organisations in the world by providing core infrastructure so they can focus on their core businesses. In the case of Polkadex, their network validators are growing rapidly since their launch and by making it easy for additional validators to get added to the network OnFinality is enabling even greater scalability.
"OnFinality makes running a Polkadex validator node so easy that users don't need to worry about buying the necessary hardware, setting it up, or making tools to monitor it. Validators play an important role in our ecosystem by forming new blocks, validating transactions, and maintaining network efficiency. OnFinality lets future Polkadex validators focus on building out a community of nominators and maximizing their validator's profit in PDEX rewards" said Deepansh S, Co-Founder of Polkadex.
James Bayly, Head of Business Development of OnFinality, "The Polkadex network is public and open to anyone. Anything that makes it easier to actively participate in the network therefore makes Polkadex more distributed. That is a win for the Polkadex community and it's a win for decentralization. When Polkadexers can start running validator nodes in a few clicks, the network as a whole benefits. OnFinality's infrastructure solutions are designed to make that possible and have been doing so for dozens of Polkadot ecosystem networks, including Polkadot, Centrifuge, Kilt, and Kusama. We could not be more proud to add Polkadex to that list."
You can read more about OnFinality's infrastructure here.
About Polkadex
Polkadex is a fully decentralized peer-to-peer orderbook-based cryptocurrency exchange for the DeFi ecosystem built on Substrate.
Website| Twitter | TG Chat | TG Announcements | Medium | Youtube | Reddit | Discord | Linkedin | Spanish community | Turkish community | Indian community | Russian community | Chinese community |
About OnFinality
OnFinality is a SaaS platform that provides infrastructure and developer tools that saves developers hours and allows you to grow with confidence. Their mission is to help blockchain and dApp developers build the decentralised future faster.