November Recap — A Happy Birthday
At the end of November, Polkadot, Kusama, Karura, Moonbase Alpha, Khala, and Moonriver had each exceeded 1 billion API requests through OnFinality over their lifetime.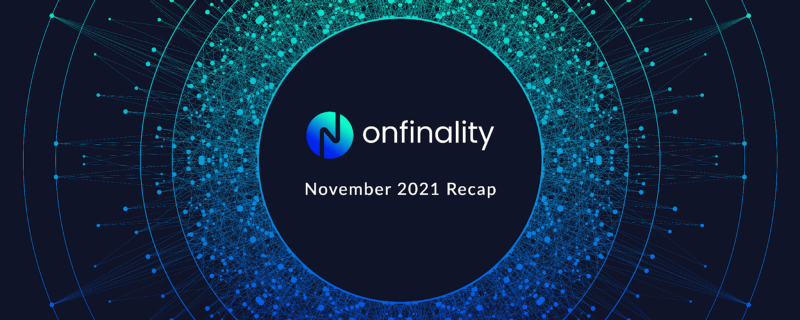 November by the Numbers
Our largest ever day so far, with over 877 million requests in a single day.
20.2 Billion requests in November over our 26 supported networks, up 90% from October
At the end of November, we had served over 58 Billion requests in OnFinality's lifetime (12 months)
We had a max two-day period of over 1.675 Billion requests between 29–30th November
Over 64 terabytes of data egress from OnFinality's API endpoints in November, up 33% from October
Partnerships announced with Automata, Calamari and Subspace Networks
November Report
We continue to be staggered by the sheer volume of API requests we are now handling on a daily basis. Our goal of 1 billion requests a day seemed audacious only several months ago, but now we can say with some degree of certainty that we have clear skies ahead and can achieve this. Once again, we broke our last monthly record by achieving 20.2 billion API requests in November and crossing the 50 billion total requests threshold. Not bad for our 1 year anniversary!
We had our highest ever day on the 12th of November with over 750 million requests in a single 24 hour period due to the first round of Polkadot parachain auctions. This beat our last record of 583 million requests in a 24 hour period in October by a casual 167 million margin!
Partnerships
OnFinality's mission is to support all blockchain organisations in the world by providing critical infrastructure so they can focus on their core businesses. This months it is really important to note that we are growing with our partners. At the end of November, Polkadot, Kusama, Karura, Moonbase Alpha, Khala, and Moonriver had each exceeded 1 billion requests through OnFinality over their lifetime. 14 networks on our platform have all had days where they have exceeded 10 million API requests through our platform.
On the other hand, OnFinality's API Service allows dApp developers to access high performance managed shared nodes without any setup and at minimal cost.
This month we announced that Subspace Labs built their Kusama Relayer Service on top of OnFinality's public RPC (Remote Procedure Call) endpoint to back up the full blocks of the Kusama relay chain and all of the live parachains in real-time. This integration is a part of a broader effort by OnFinality and Subspace to support the growth of the Polkadot and Kusama ecosystems by providing a permanent, scalable, decentralized storage layer.
We also shared our partnership with Automata Network who leverage on OnFinality's globally distributed API services to allow Automata community members to run full and validator nodes, and makes it simple for anyone to participate and take on a more active role in the Automata network.
Finally, our collaboration with Calamari Network showcased how OnFinality's infrastructure tools have been a critical component to Calamari's successful test network launch. OnFinality provides globally distributed Enhanced API service for Calamari's global community of on-chain privacy applications which benefit from high-performance RPC archive nodes when they connect to the Calamari network.
Looking back to the past
About OnFinality
OnFinality is a SaaS platform that provides infrastructure and developer tools that saves developers hours and allows teams to grow with confidence. Our mission is to help blockchain and dApp developers build the decentralised future faster.