OnFinality Provides Blockchain Infrastructure Services To Automata Network
OnFinality, Polkadot's largest blockchain infrastructure provider, provides scalable API services for Automata Network to enable web3 developers to run full and validator nodes.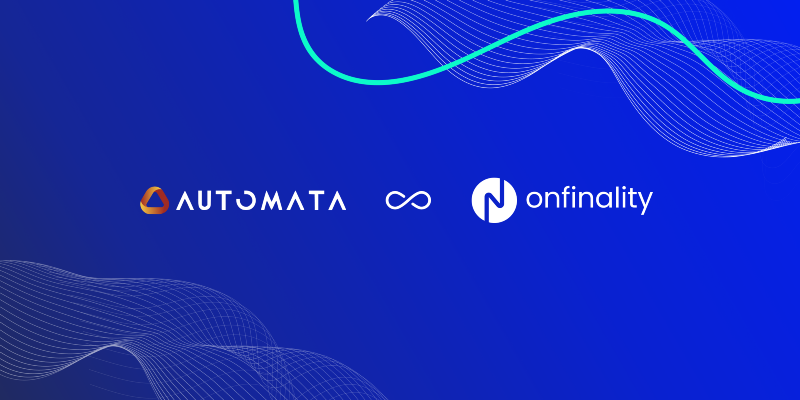 We are pleased to announce our partnership with Automata Network, a decentralized privacy middleware protocol for dApps on multiple platforms. OnFinality is providing scalable API services for Automata Network which will enable their community to run full and validator nodes.
Sam Zou, the Founder and CEO of OnFinality commented, "OnFinality is proud to provide Automata Network the infrastructure they need so they can focus on building the future privacy solution stack for Web3. We share a common vision in providing infrastructure to teams building innovative dApps and look forward to supporting Automata's future growth"
OnFinality will continue to work closely with the Automata team to help manage and reduce their DevOps workload, so they can focus on developing and iterating the Automata Network as the priority.
"Working together with OnFinality has allowed us to build with peace of mind — their community API services are reliable, powerful, and go a long way in taking care of our technical pipeline. As our network grows, we appreciate having a trusted and quality infrastructure partner." Deli Gong, Co-Founder at Automata Network.
How Automata and OnFinality worked together
OnFinality works collaboratively with each of its partners to provide infrastructure guidance and support and is one of the reasons why every Polkadot parachain team so far has relied on OnFinality to provide scalable API services.
The API integration with Automata has been completed and users can find the API services hosted by OnFinality at:
ContextFree (Canary Network)
wss://contextfree.api.onfinality.io/public-ws
Automata (Mainnet)
wss://automata.api.onfinality.io/public-ws
These have been integrated into https://polkadot.js.org/apps, and you can find them in the network switch panel.
Why Automata partners with OnFinality for infrastructure
OnFinality's mission is to support all blockchain organisations in the world by providing critical infrastructure so they can focus on their core businesses. OnFinality's API Service allows developers to access high performance managed shared nodes without any setup and at minimal cost.
OnFinality's globally distributed API services will allow Automata community members to run full and validator nodes, and makes it simple for anyone to participate and take on a more active role in the Automata network.
OnFinality is serving over 600 million JSON RPC requests to its public API service every day and is currently integrated with 22 networks including Kusama, Statemine, Karura, Bifrost, Shiden, Calamari, Altair, Moonriver, Heiko, Khala, Basilisk, Kilt, and Kintsugi.
About Automata Network
Automata Network is a decentralised service protocol that provides middleware services for dApps on Ethereum and Polkadot to achieve traceless privacy, high assurance and frictionless computation.
Website | Telegram | Discord | Twitter | Github | Mev.tax
About OnFinality
OnFinality is a SaaS platform that provides infrastructure and developer tools that saves developers hours and allows you to grow with confidence. With OnFinality you can deploy dedicated nodes to 20+ Polkadot networks in minutes, or access an enhanced shared node API service for reliable service. Our mission is to help blockchain and dApp developers build the decentralised future faster.