Snow Nodes are now available for deployment via OnFinality
OnFinality, Polkadot's leading blockchain infrastructure provider, allows web3 developers to now deploy Snow nodes easily in a few clicks.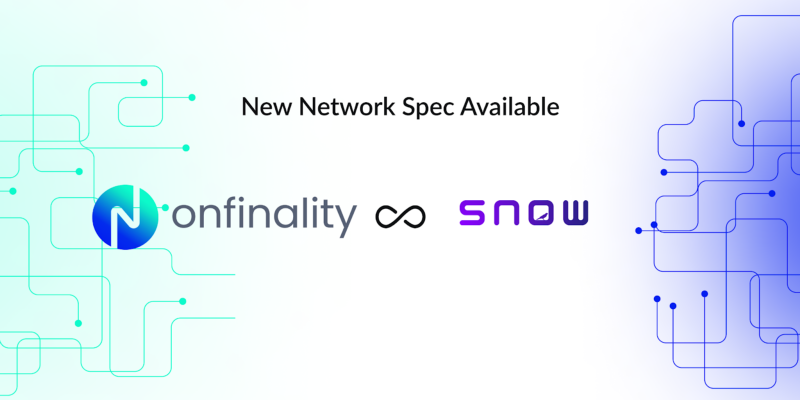 OnFinality, Polkadot's leading blockchain infrastructure provider, adds SNOW nodes to its marketplace supporting over 60 networks!
We are delighted to announce our partnership with SNOW, a community-oriented and crowdloan-funded Kusama parachain that serves as a canary network for ICE!
"This partnership is great for SNOW, as we can look forward to more scalable and cost-efficient SNOW node deployment! Partnering with OnFinality will give us access to Polkadot/Kusama's leading blockchain infrastructure provider, allowing anyone to spin up a new node for SNOW with just a few clicks"
— SNOW Team
What is SNOW?
SNOW is a long-term incentivized network for cutting-edge development backed by the ICZ token, which has real-world value. SNOW will serve as a 'canary network' for ICE. Supply and other token economic behaviours on SNOW will be the same as ICE, but token distribution will be different in order to support the goals and attributes of the network.
SNOW comes packed with a set of top tier features such as Full EVM and eWASM-compatibility, BTP cross-chain interoperability optimization and the backing of a vibrant L1 community. On SNOW, you can innovate without having to make guesses on tokenomics and game theory. Among other things, SNOW will use a parachain crowdloan to obtain its initial parachain slot on Kusama.
Benefits of deploying SNOW nodes through OnFinality
Easy — Deploy Dedicated Nodes easily and quickly via our one-click node deployment service without worrying about setting up hardware from scratch
Scalable — Upsize and downsize your nodes easily in a few clicks!
Cost-Efficient — Pay for only what you need. You no longer have to buy or set up your own hardware or make tools to monitor your node's health and performance
Visibility — Simply connect to our Node Metric Endpoint for automated monitoring and alerts on your node's health
"We are incredibly happy to be supporting SNOW onto our Marketplace with over 60 networks! Users building on SNOW now have the choice to spin up nodes on-demand via OnFinality, and scale from the get go without having to first set up infrastructure of their own!"
— Gary Cashman, Head of Customer Success, OnFinality
You can now log in to see SNOW's network spec in the OnFinality Marketplace.
For all the information about how to jumpstart using OnFinality and start running SNOW nodes, you can follow this documentation.
About ICE & SNOW
ICE is an extension network of @helloiconworld, bridging ICON to Polkadot. SNOW is ICE's canary network, bidding for a Kusama parachain slot SOON!
ICE/ SNOW Twitter | Official ICON Community Discord Server
About OnFinality
OnFinality is a SaaS platform that provides infrastructure and developer tools that saves developers hours and allows teams to grow with confidence. Our mission is to help blockchain and dApp developers build the decentralised future faster.