OnFinality Powers "Collectives", Parity's Common Good Parachain, with API and Node Services
OnFinality, Polkadot's largest infrastructure provider, adds scalable API and node support for "Collectives", Parity's Common Good Parachain on Polkadot.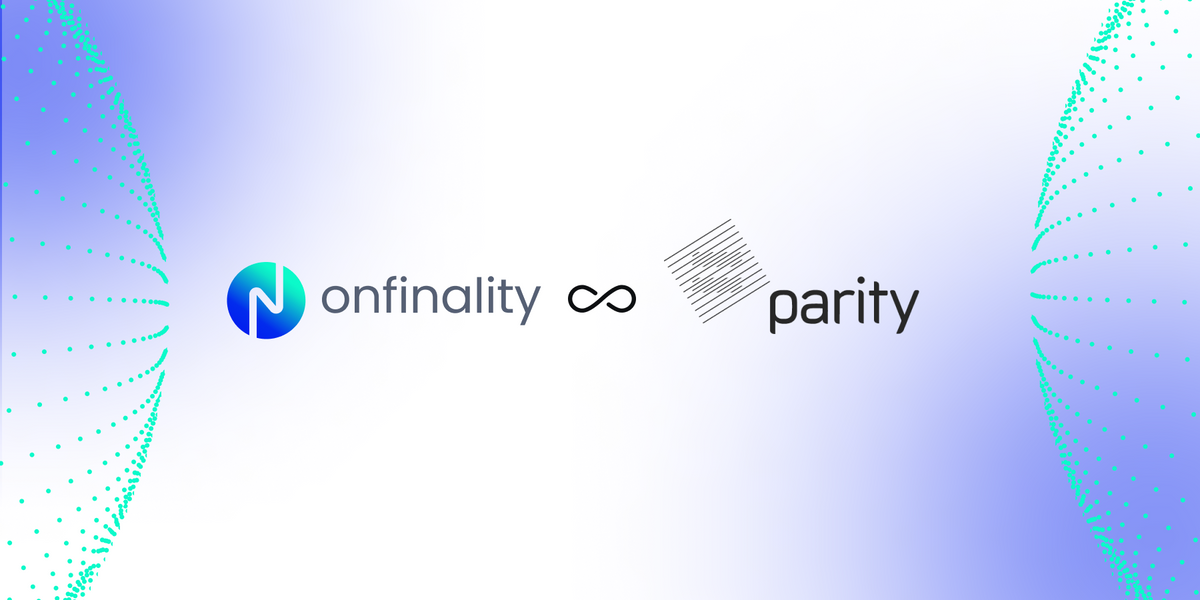 OnFinality, Polkadot's leading blockchain infrastructure provider, announces new API and node support for "Collectives", Parity's Common Good Parachain on Polkadot.
We are proud to be announcing new API and node support for "Collectives", Parity's Common Good Parachain on Polkadot, to help further the future of decentralised governance on web3!
What is Parity Technologies?
Parity Technologies is the development company behind Polkadot. It was founded by the co-founder of Ethereum, Dr. Gavin Wood.
Today, Parity continues to innovate open-source blockchain infrastructure technologies for the decentralised web. Some of the groundbreaking distributed tech pioneered by Parity include on-chain governance protocol upgrades, Proof-of-Authority consensus, Private Ethereum transactions, Warp sync and pruning, as well as Rust and Wasm in blockchain.
"As Polkadot's largest blockchain infrastructure provider, we are incredibly proud to be supporting the launch of the "Collectives" parachain, an important step forward for decentralised governance on Polkadot and the wider web3 ecosystem."
— Daniel Vulinovich, Product Manager at OnFinality
What is "Collectives"?
"Collectives" is a new parachain and governance proposal by Parity, enabling networks to act as collectives and express their legislative voices on the decentralised web without the need for third parties such as lawyers or jurisdictional courts.
Our mission is to support all blockchain teams in the world by providing critical infrastructure so they can focus on their core business. By leveraging OnFinality's expertise in infrastructure, the development team at Parity can now focus on building an efficient, stable, and scalable platform.
The OnFinality API Integration Enables Builders on "Collectives" To:
Access the "Collectives" network quickly in minutes without having to set up or manage infrastructure
Enjoy global performance, automated scalability and high availability of up to 99.9% uptime per year!
Gain valuable API Insights for you to spot issues on your apps and quickly implement rectifications for a bug-free user experience
Log in to your OnFinality app to access the Enhanced API Service for "Collectives" now!
How To Connect To OnFinality's Scalable API Endpoints
You can access our public API service by connecting to it using Polkadot.js or via the endpoints listed below.
"Collectives" Public API Endpoints:
wss://collectives.api.onfinality.io/public-ws
In addition, OnFinality also provides the ability for participants in the "Collectives" ecosystem to rapidly deploy and manage nodes via any of our supported cloud providers such as Amazon Web Service (AWS), Google Cloud Platform (GCP) and Alibaba Cloud.
Benefits Of Deploying "Collectives" Nodes Through OnFinality
Easy — Deploy Dedicated Nodes easily and quickly via our on-demand node deployment service without worrying about setting up hardware from scratch
Scalable — Upsize and downsize your nodes easily in a few clicks!
Cost-Efficient — Pay for only what you need. You no longer have to buy or set up your own hardware or make tools to monitor your node's health and performance
Visibility — Simply connect to our Node Metric Endpoint for automated monitoring and alerts on your node's health
You can now log in to see "Collectives'" network spec in the OnFinality Marketplace.
For all the information about how to jumpstart using OnFinality and start running "Collectives" nodes, you can follow this documentation.
For teams looking to take your applications to the next level and ensure that you receive the best performance possible, we highly recommend using an API key.
What are the benefits of getting an API key?
Simply sign up here to receive your free API key in minutes!
Our 'Free Plan' comes with 500,000 daily responses for anyone to get started easily.
You may also reach us at sales@onfinality.io to discuss your requirements.
Build Smarter with OnFinality.
About Parity
Parity's mission is to enable businesses and organisations to capitalise on blockchain technology and benefit from the new opportunities it presents. We develop cutting-edge software solutions for enterprises and industries to unlock the full value of decentralised technology. We believe that decentralised technology has the power to fundamentally change and enhance the systems used by businesses, consumers, and governments every day.
Website | Twitter | GitHub | Telegram | LinkedIn
About OnFinality
OnFinality is a blockchain infrastructure platform that saves web3 builders time and makes their lives easier. OnFinality delivers scalable API endpoints for the biggest blockchain networks and empowers developers to automatically test, deploy, scale and monitor their own blockchain nodes in minutes. To date, OnFinality has served over 300 billion RPC requests across 69 networks including Polkadot, Ethereum, Moonbeam, Astar, Avalanche and Cosmos, and is continuously expanding these mission-critical services so developers can build the decentralised future, faster!