May Recap — "May's Magnitude"
OnFinality continues to deliver scalable API endpoints across Polkadot and Kusama ecosystems. It added a node metric endpoint for web3 developers to gain better visibility into the blockchain.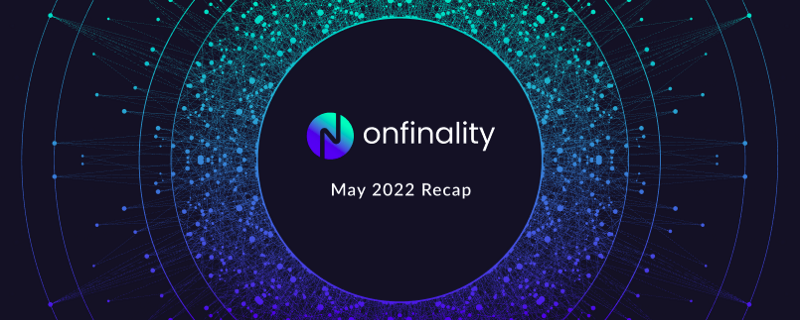 May by the Numbers
22.4 Billion requests in May over our 40 supported networks
At the end of May, OnFinality has served over 193 Billion requests over our lifetime to hundreds of application developers and users
We are seeing growth in the data on each chain, with over 91 terabytes of data egress from OnFinality's API endpoints in April, up 25% from April
Bajun and Zeitgeist joined bringing our number of networks available to over 60!
We added a node metric endpoint to help developers better monitor and manage their nodes
May Report
Our daily request growth is continuing to grow, as over the course of this year we've had a total of 115.3 billion requests. Comparing May 2021 vs May 2022, we have grown by 19,850,796,676 or 761%!
Stability
In May we continued to deliver reliable, scalable and high performing solutions across the Polkadot and Kusama ecosystems. Rewrites of our load balancing system and node infrastructure ensured that we maintained our ongoing 99.9% uptime target, a high bar that means less than 9 hours of downtime per year.
You can also follow along with our target uptime by viewing the live numbers on our new status page (https://status.onfinality.io/).
Expanding Support for More Network Specs and API Services
In May, we added the following new networks available with Ajuna's Bajun Network as well as Zeitgeist. You can now deploy dedicated nodes in these networks via OnFinality (https://app.onfinality.io/). This now brings our total supported network count to over 60.
We also created API services for MangataX as well as Integritee Parachain.
Service Updates
By popular request, we added a node metric endpoint for developers to gain secure and easy access to monitor and manage their network health and extract specific node metrics for use in different business divisions.
By connecting to this endpoint, developers can do more to automate monitoring and alerting of any issues with nodes running in OnFinality. This is especially important for our validator customers, who ask for detailed health statistics on their nodes. Customers can use external tools like Grafana to create dashboards from this live prometheus data, follow this excellent tutorial by Substrate to learn how.
Looking back to the past
About OnFinality
OnFinality is a SaaS platform that provides infrastructure and developer tools that saves developers hours and allows teams to grow with confidence. Our mission is to help blockchain and dApp developers build the decentralised future faster.