September Recap — Another Record Month
OnFinality continues to provide scalable API and dedicated nodes services on Polkadot and Kusama, adding support for parachains such as KILT, Calamari, Altair, Basilisk and Parallel Heiko.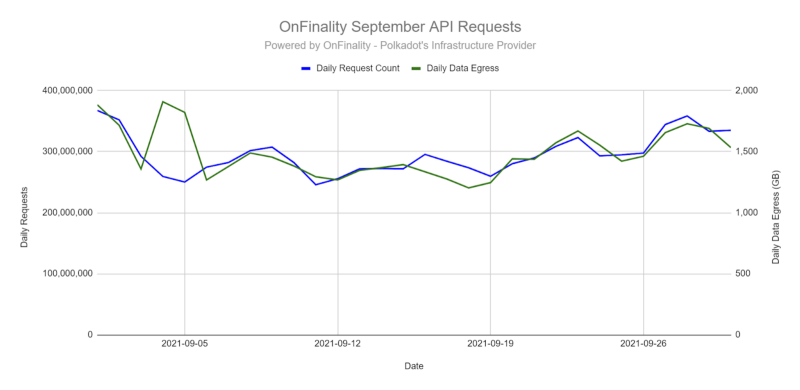 September by the Numbers
Our largest ever day so far, with almost 367 million requests in a single day.
API support for five new parachain networks added
8.86 Billion requests in September over our 20+ supported networks, almost double that of August!
At the end of September, a total of 26.8 Billion requests in OnFinality's lifetime (10 months)
The last Billion requests took only 3 days.
44.6 terabytes of data egress from OnFinality's API endpoints
September Report
Just when we thought August was a big month, September knocked it out of the park with another massive boost in API requests. We are now serving various wallets, scanners and tools all over the ecosystem. To make it even better, we've continued to partner with every single parachain in Kusama and we onboarded five more networks this month; KILT, Calamari, Altair, Basilisk and Parallel Heiko.
We had our highest ever day on the 1st of September with 367.5 million requests in a single 24 hour period (4,200 each second) due to the consistent growth of traffic across the number of API endpoints for different parachains that we support. For example, Karura and Shiden surged at the start of the month to 22 and 35 million daily API requests each respectively.
Improvements to OnFinality
This month we improved our data analytics and metrics collection capabilities and are now securely sharing insightful data with our parachain customers on aspects such as usage methods and patterns so they can better understand their users. This allows our customers to monitor for valuable insights into their usage methods over time and manage the upgrades of the nodes that work together to provide the API service.
We've also made some significant under the hood improvements to our routing strategies and scale enhancements to our load balancer with the goal of scaling to a Billion daily requests. The variety of improvements to our health metric collection tools and automated recovery scripts are there to ensure our 99.9% SLA is met.
In addition, the team is about to deploy a new user interface to improve our user experience for our node as a service solution — take a look at a preview below
Looking back to the past
---
About OnFinality
OnFinality is a SaaS platform providing infrastructure services for the Kusama/Substrate community. Our mission is to support blockchain developers of all shapes and sizes by providing infrastructure services so they can focus on building the next dApp.