OnFinality Joins the Leading Voices at Asia's Largest Web3 Event, TOKEN2049
OnFinality collaborates with Alibaba Cloud, and attended the TOKEN2049 Singapore to bring easy, reliable and scalable blockchain infrastructure to more web3 developers!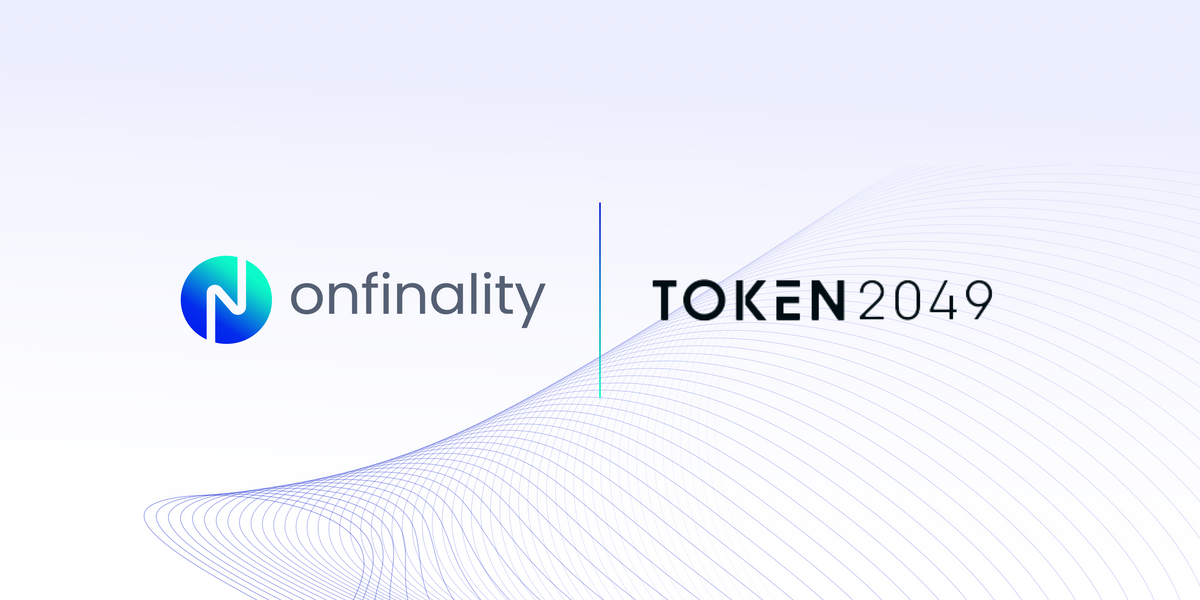 OnFinality, a leading infrastructure provider that recently announced its collaboration with Alibaba Cloud, joined hands with the Polkadot community to bring blockchain infrastructure to more web3 builders!
OnFinality is a blockchain infrastructure platform that aims to support all blockchain teams in the world by providing mission critical, reliable and scalable infrastructure so that web3 teams can focus on building the decentralised future, faster.
Last week, the entire crypto and web3 ecosystem was in town for TOKEN2049 Singapore, the industry's first major in-person event in the region ahead of the Formula 1 Singapore Grand Prix 2022 race weekend.
Polkadot Lounge Party
To kick off the highly-anticipated TOKEN2049, OnFinality joined hands with stakeholders and projects from the Polkadot ecosystem such as Astar, Ajuna, and Moonbeam, in organising a Polkadot Lounge Party to host the local DOT community, and create a familiar and communal environment to welcome the broader community into the Polkadot ecosystem.
The event, supported by the Web3 Foundation, was a huge success, with an exciting line-up of core teams exchanging their views and insights on the current development of the ecosystem, as well as key Polkadot stakeholders, Rae from Parity and Obi from the Web3 Foundation sharing important information about the current status and future plans for the ecosystem.
TOKEN2049 Singapore
Crypto winter has not fazed the brave hearts of web3 builders here for the long run. TOKEN2049 saw over thousands of attendees fly in from around the globe to meet IRL at Asia's largest crypto in-person event of the year.
Speakers at the event addressed a broad agenda — from the evolving regulatory landscape and institutional investment trends to the rise of the metaverse, web3, and what all of these ultimately mean for the industry as we gear toward mainstream adoption.
Led by Polkadot and Parity, the Polkadot ecosystem banded together to form a 'Polkadot Pavilion' showcasing the exciting DeFi, NFTs, Metaverse, data indexing, and cross-chain projects across the ecosystem.
The booth welcomed developers, entrepreneurs, and avid blockchain enthusiasts to discuss all things web3. It was interesting to see builders from other ecosystems wanting to learn more about Polkadot and its unique functionalities.
As always, it was great to finally be able to meet many of our partners whom we've been collaborating with IRL for the first time.
Invitation to Build the Web3 Future Together
Since our founding in 2019, we have served over 250 Billion requests to some of the largest web3 projects over 60 networks across Polkadot, Avalanche, and Cosmos (Juno), and are continually adding further integrations in our goal to be a leader in multi-chain infrastructure.
If you're looking to build for a global audience from day one, check out our comprehensive suite of building tools here!
If you're looking to build the next big dApp or take your network to the next level, get in touch to discuss your requirements!
Build Smarter with OnFinality.
About OnFinality
OnFinality is a blockchain infrastructure platform that saves web3 builders time and makes their lives easier. OnFinality delivers scalable API endpoints for the biggest blockchain networks and empowers developers to automatically test, deploy, scale and monitor their own blockchain nodes in minutes. To date, OnFinality has served over 250 billion RPC requests across 60 networks including Polkadot, Kusama, Moonbeam, Astar, Avalanche and Cosmos, and is continuously expanding these mission-critical services so developers can build the decentralised future, faster!