OnFinality helps web3 builders accelerate DeFi 2.0 with Equilibrium
OnFinality, a multi-chain infrastructure provider, empowers web3 builders to rapidly deploy and manage Equilibrium blockchain nodes via its one-click node solution.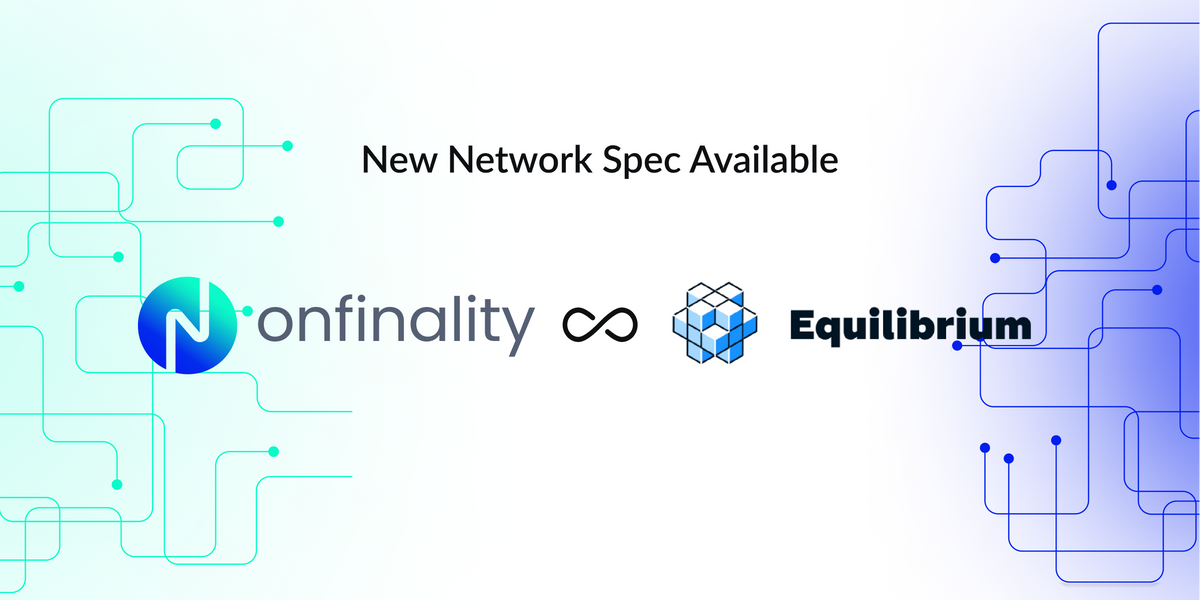 OnFinality, a multi-chain infrastructure provider, announces support for Equilibrium, one of the most influential projects within the Polkadot and Kusama ecosystems.
We are proud to announce support for Equilibrium, a one-stop platform to earn, borrow, trade at maximum efficiency!
OnFinality will provide Equilibrium users with an easy to use, reliable and scalable one-click node solution to deploy on the network faster than ever!
"Equilibrium has already delivered amongst the most complex and useful dApps driving the DeFi economy. However, there is still a largely untapped potential for serving the greater crypto community. OnFinality's easy node solution will help accelerate the growth of the network by enabling anyone to deploy on the network in a matter of clicks."
— Daniel Vulinovich, Product Manager at OnFinality
What is Equilibrium? ($EQ, $EQD)
Equilibrium is an all-in-one substrate-based DeFi protocol on Polkadot that unites a high leverage money market and an order book decentralised exchange (DEX) with margin trading.
Equilibrium offers on-chain price discovery and system-wide insurance by enabling participants to separate and transfer volatility risk and price event risk from borrowers to so-called bailsmen.
By leveraging on Polkadot's technology and its substrate framework for creating decentralised systems, Equilibrium aims to solve the issue of fragmentation of users across DeFi protocols, delivering an unparalleled DeFi solution with the combined capabilities of the top DeFi protocols by locked value (Maker DAO, Compound, and Curve).
Multi-Cloud Deployment of Equilibrium Blockchain Nodes
The addition of Equilibrium's network spec will enable participants in the Equilibrium ecosystem to easily and rapidly deploy and manage nodes via any of our supported cloud providers such as Amazon Web Service (AWS), Google Cloud Platform (GCP) and Alibaba Cloud, helping to scale the network faster than ever!
Benefits of deploying Equilibrium nodes through OnFinality
Incredibly easy — Deploy Full/ Collator/ Archive Equilibrium nodes on-demand without having to set up infrastructure of your own
Scalable — Upsize and downsize your nodes easily in a few clicks
Cost-efficient — Pay for only what you need. You no longer have to buy or set up your own hardware or make tools to monitor your node's health and performance
Visibility — Simply connect to our Node Metric Endpoint for automated monitoring and alerts on your node's health

You can now log in to see Equilibrium's network spec in the OnFinality Marketplace.
👀 Follow along this video to see how easy it is to deploy a node with OnFinality!
Build Smarter with OnFinality. 😎
About Equilibrium
Equilibrium is a one-stop DeFi platform on Polkadot that allows for high leverage in trading and borrowing digital assets. It combines a full-fledged money market with an orderbook-based DEX. EQ is the native utility token that is used for communal governance of Equilibrium. Dollar-pegged EQD is Equilibrium's native decentralized stablecoin, collateralized by a weighted basket of assets and used as a universal unit of value within the DeFi ecosystem. eqDOT is a liquid DOT staking wrapper that allows users to participate in DeFi on Equilibrium while earning DOT staking yield.
Join Equilibrium on Discord, News Channel, Twitter, Medium, Website, GitHub
About OnFinality
OnFinality is a blockchain infrastructure platform that saves web3 builders time and makes their lives easier. OnFinality delivers scalable API endpoints for the biggest blockchain networks and empowers developers to automatically test, deploy, scale and monitor their own blockchain nodes in minutes. To date, OnFinality has served over hundreds of billions of RPC requests across 78 networks including Avalanche, BNB Chain, Cosmos, Polkadot, Ethereum, and Polygon, and is continuously expanding these mission-critical services so developers can build the decentralised future, faster!