Aleph Zero Nodes are now available for deployment via OnFinality
OnFinality, Polkadot's leading blockchain infrastructure provider, adds Aleph Zero nodes for web3 developers to deploy nodes easily in a few clicks!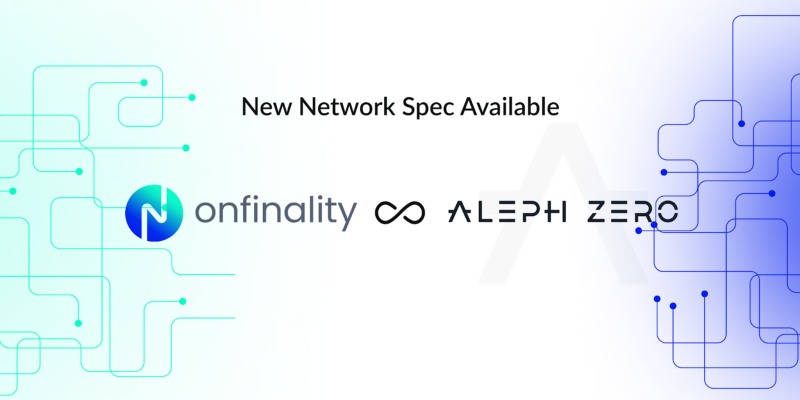 OnFinality, Polkadot's leading blockchain infrastructure provider, adds Aleph Zero nodes to its marketplace supporting over 60 networks!
We are proud to announce our partnership with Aleph Zero, a peer-reviewed public blockchain platform with private smart contracts ready for DeFi revolution!
"We are very happy to join a rich marketplace of available networks on OnFinality. The process was very smooth and we got very kind support from the team. We are sure that now validators will be able to deploy their nodes with the same ease and confidence. "
— Michał Świętek, CPO, Aleph Zero
What is Aleph Zero?
Aleph Zero Foundation is a non-profit foundation overseeing the development of Aleph Zero blockchain.
At the core of the blockchain is Aleph BFT, a DAG-based consensus protocol that has been peer-reviewed for design correctness.
Aleph Zero is the next-generation blockchain to introduce energy-efficient platforms and interoperability.
To promote an atmosphere of trust, Aleph Zero has requested that Trail of Bits audit the Aleph Zero BFT to ensure the high standard of its security protocol and its integration with the Substrate framework.
Benefits of deploying Aleph Zero's nodes through OnFinality
Easy — Deploy Dedicated Nodes easily and quickly via our on-demand node deployment service without worrying about setting up hardware from scratch
Scalable — Upsize and downsize your nodes easily in a few clicks!
Cost-Efficient — Pay for only what you need. You no longer have to buy or set up your own hardware or make tools to monitor your node's health and performance
Visibility — Simply connect to our Node Metric Endpoint for automated monitoring and alerts on your node's health
You can now log in to see Aleph Zero's network spec in the OnFinality Marketplace.
For all the information about how to jumpstart using OnFinality and start running Aleph Zero nodes, you can follow this documentation.
"We are proud to be supporting Aleph Zero with core infrastructure so that they can focus 100% on solving the inefficiencies of current DLT platforms such as speed, security & scalability. We can't wait to see what dApps get built on Aleph Zero!"
 — James Bayly, COO, OnFinality
About Aleph Zero
Aleph Zero Foundation is overseeing the development of the novel Aleph Zero blockchain — a peer-reviewed, energy-efficient, open-source DLT ecosystem focused on scalability, security, privacy, and interoperability.
Discord | Telegram | Twitter | Instagram | LinkedIn | Facebook
About OnFinality
OnFinality is a blockchain infrastructure platform that saves Web3 builders time and makes their lives easier. OnFinality delivers scalable API endpoints for the biggest blockchain networks and empowers developers to automatically test , deploy, scale and monitor their own blockchain nodes within minutes.