OnFinality Adds Phala Nodes to Rapidly Expanding Blockchain Node Marketplace
OnFinality provides easy-to-use, reliable and scalable node deployment for web3 teams like Phala across the Avalanche, Cosmos and Polkadot ecosystems.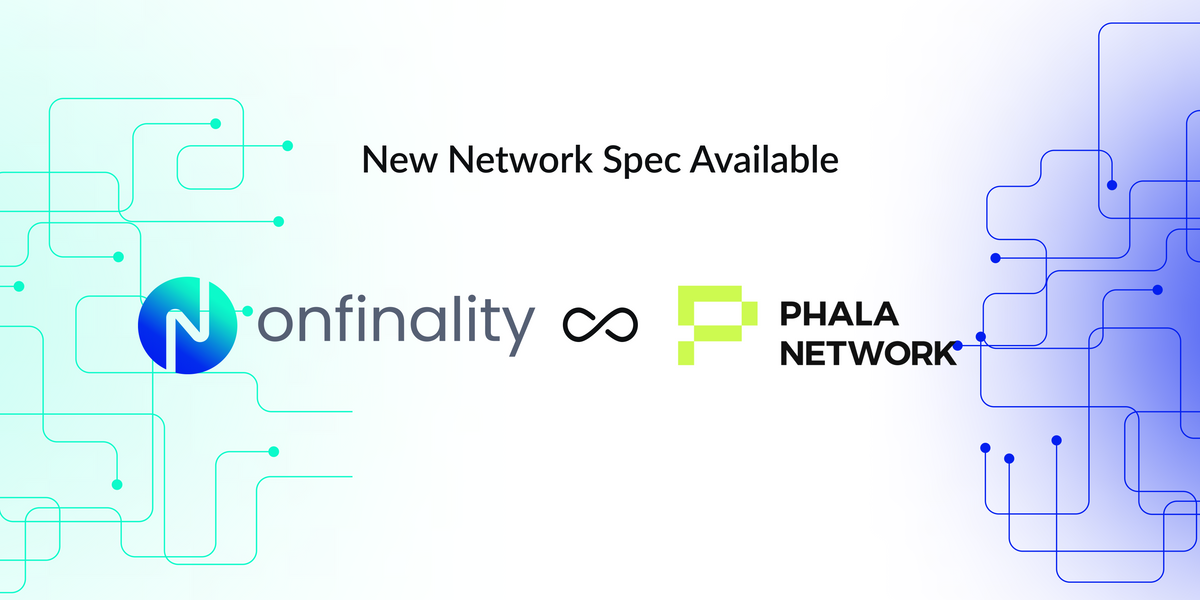 OnFinality, Polkadot's leading blockchain infrastructure provider, announces a strengthened partnership with Phala Network, a decentralised cloud computing protocol.
We are proud to be announcing the addition of Phala nodes to our vast node marketplace, supporting over 60 networks across the Polkadot, Avalanche and Cosmos ecosystems!
We have been working collaboratively with Phala Network for months now, providing an easy-to-use, reliable and scalable API as well as one-click deploy nodes for Khala Network, the canary network of Phala Network launched on Kusama.
"The cooperation with OnFinality reduces the pressure of our development and maintenance, enhances the node stability and makes it more user-friendly to the general public. The addition of Phala nodes to OnFinality's marketplace paves the way for a better users experience in the future to Phala's followers."
— Jun Jiang, Co-founder, Phala Network
What is Phala ($PHA)?
Phala Network is a privacy-preserving cloud computing service, which is based on Substrate and will run as a parachain of the Polkadot ecosystem to offer computing power comparable to existing cloud services and protects the privacy of managed programs.

Based on TEE-Blockchain Hybrid Architecture, developers can deploy confidential smart contracts running inside the Trusted Execution Environment (TEE) Enclaves in the CPU.
The addition of Phala nodes to the OnFinality marketplace will enable participants in the Phala ecosystem to rapidly deploy and manage nodes via any of our supported cloud providers such as Amazon Web Service (AWS), Google Cloud Platform (GCP) and Alibaba Cloud.
Benefits of deploying Phala nodes through OnFinality
Easy — Deploy Dedicated Nodes easily and quickly via our on-demand node deployment service without worrying about setting up hardware from scratch
Scalable — Upsize and downsize your nodes easily in a few clicks!
Cost-Efficient — Pay for only what you need. You no longer have to buy or set up your own hardware or make tools to monitor your node's health and performance
Visibility — Simply connect to our Node Metric Endpoint for automated monitoring and alerts on your node's health
"We have been providing Phala with API and nodes services since the launch of its canary network, Khala. Today, we're proud to be adding Phala nodes to our marketplace and will continue to scale our services to support Phala in their goal of becoming the world's largest P2P computing network, a standard decentralised computing cloud based on Web3."
— Daniel Vulinovich, Technical Product Manager at OnFinality
You can now log in to see Phala and Khala nodes in the OnFinality Marketplace.


For all the information about how to jumpstart using OnFinality and start running Phala nodes, you can follow this documentation.

Build Smarter with OnFinality.
About Phala
Phala Network tackles the issue of trust in the computation cloud.

By organizing a decentralized network of computation nodes around the world, it offers high-performance services without relying on any cloud vendor. Phala workers run the programs in Secure Enclaves, a privacy technology already embedded into modern processors, enabling versatile and confidential execution. Together, this creates the infrastructure for a powerful, secure, and scalable trustless computing cloud.

🍽 — Subscribe | Website | Twitter | Github
🥤 — Discord | Forum | Telegram |Italiano |Français | Persian | Korean
About OnFinality
OnFinality is a blockchain infrastructure platform that saves Web3 builders time and makes their lives easier. OnFinality delivers scalable API endpoints for the biggest blockchain networks and empowers developers to automatically test , deploy, scale and monitor their own blockchain nodes within minutes. To date, OnFinality has served over 265 billion RPC requests across 60 networks including Polkadot, Kusama, Moonbeam, Astar, Avalanche and Cosmos, and is continuously expanding these mission-critical services so developers can build the decentralised future, faster!