January Recap — Level Up!
OnFinality provides scalable API services and one-click node deploy services for web3 developers to access networks over Polkadot and Kusama such as OAK and Nodle.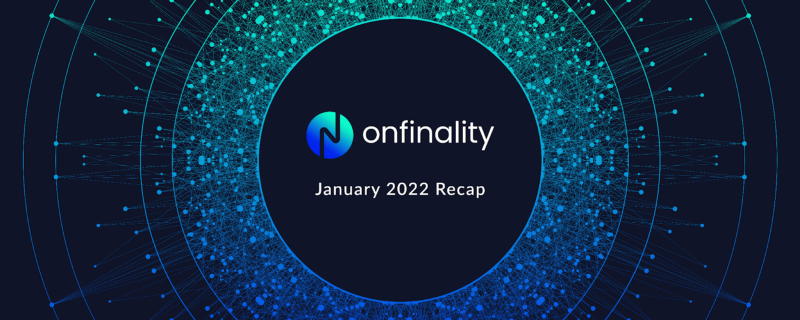 January by the Numbers
Our largest ever day so far and a huge milestone for the team, with over 1 Billion requests in a single day!
23.1 Billion requests in January over our 26 supported networks, up 14% from December
At the end of January, we had served over 101 Billion requests in OnFinality's lifetime (14 months)
We had a max two-day period of over 1.9 Billion requests between 26th-27th January
Over 80 terabytes of data egress from OnFinality's API endpoints in January, up 22% from December
We announced new partnerships with OAK and Nodle
We released the 21st major release of OnFinality
January Report
We did it! A long-standing goal of the team has been to reach 1 billion requests in a single day and we finally crushed it in January. Last month we recorded over 23 billion API requests and crossed the 100 billion total requests threshold.
January 25th was our highest ever day with over 1.03 billion requests in a single 24 hour period This beat our last record of 884 million requests in a 24 hour period in December, an increase of 16% or over 146 million!
Comparing January 2021 with January 2022 makes for interesting reading too, with an increase of 483% or 854 Million!
Partnerships
In January, we were pleased to announce our partnerships with a number of teams. The first ​​was with OAK Network, the Web3 hub for DeFi and payment automation. OAK Network will leverage OnFinality's Enhanced API Service and Public Network Marketplace to allow their ecosystem to easily access the OAK Network or deploy dedicated nodes in a matter of minutes.
Chris Li, the Co-Founder and CEO of Oak Network commented, "OnFinality's hosting and API gateway solutions allow our team to build with peace of mind — the services are reliable, powerful, and go a long way in taking care of our technical pipeline. I believe as our network grows, OnFinality will serve our community well as a trusted and quality infrastructure partner."
In OAK Network's case the validators and nominators for the network will now be able to access high performance shared nodes through OnFinality with minimal setup and hardware requirements. This partnership will enable the OAK community to help collators and nominators earn OAK staking rewards using OnFinality's click-to-deploy node services.
We also announced our partnership with Nodle, a wireless network connecting and securing the next trillion Internet of Things (IoT) devices. Nodle partnered with OnFinality to leverage the Enhanced API Service to provide a scalable API service and node management platform for the Nodle Chain.
Eliott Teissonniere, the Chief Blockchain Officer of Nodle shared, "We are very excited to be working with OnFinality to better manage our node infrastructure. OnFinality will allow us to move away from our existing setup and move towards something that is simpler, more automated, and cost-efficient."
The OnFinality integration will allow users to:
Use OnFinality's API service to quickly and freely query a set of RPC and Websocket endpoints for the Nodle Chain. Users will also have access to over 20 additional networks and parachains over Polkadot and Kusama.
Spin up a full, archive or validator node for the Nodle Chain in just a few clicks without having to manage your own infrastructure.
Product Updates
In January we did some major under the hood improvements to our API service as we scale the number of networks we can add each month. This includes automated API service provisioning for new customers and some improvements to the consumers of our API service to allow us to provide more plans to our customers with higher rate limits combinations.
Network Owners will be able to deactivate deprecated node arguments when updating their image versions. We handle this gracefully, and prompt users to update their own dedicated node arguments during the next update.
Looking back to the past
About OnFinality
OnFinality is a SaaS platform that provides infrastructure and developer tools that saves developers hours and allows teams to grow with confidence. Our mission is to help blockchain and dApp developers build the decentralised future faster.